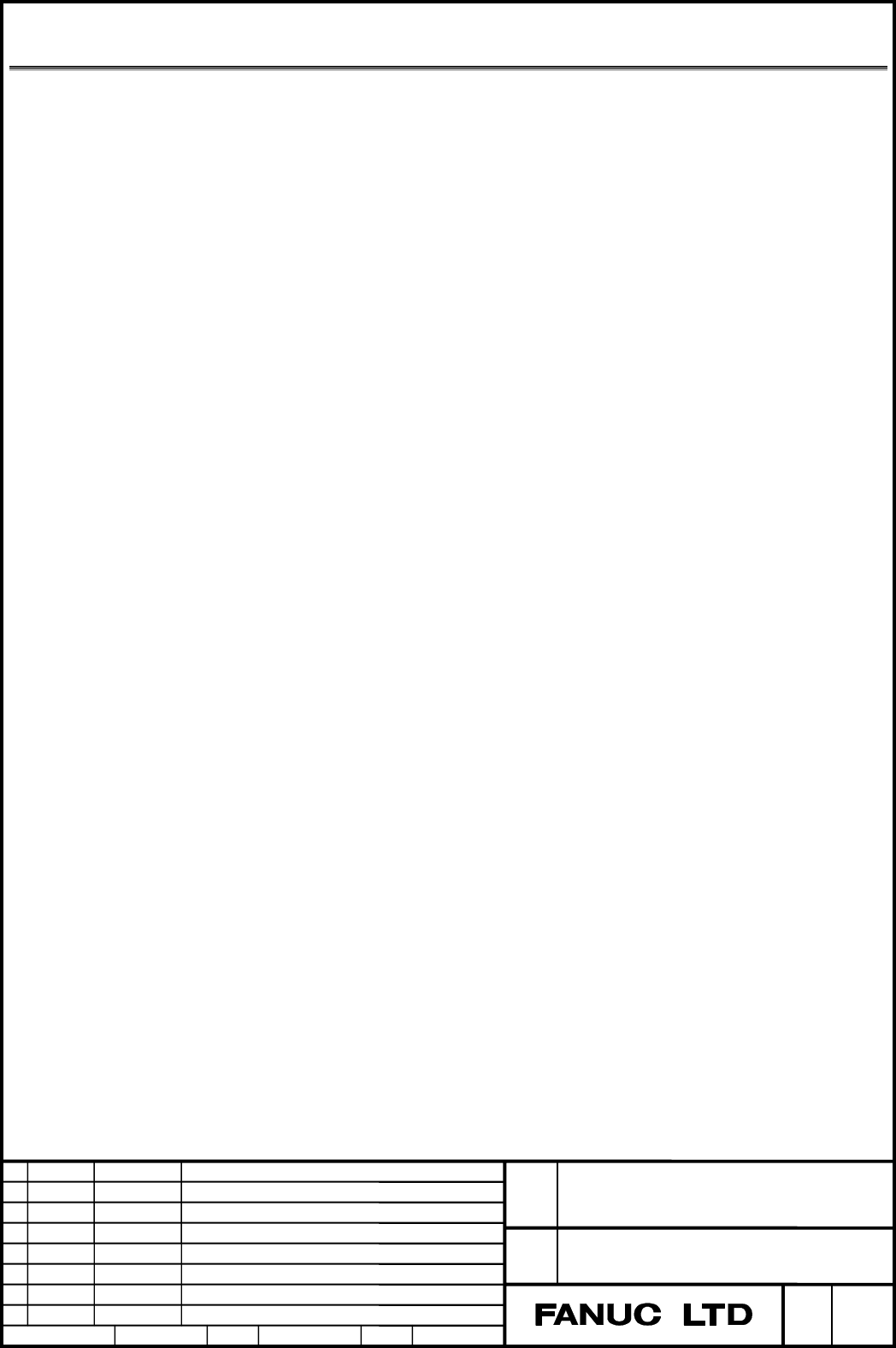 A-79359E
Title
Draw
No.
Ed. Date
Design
Description
Date
Jan.07.'04
Design.

Apprv.
page
Rotary table dynamic fixture offset
When a command G54.2Pn is specified,
a fixture offset value is calculated from the
current rotation angle and the data specified w
ith n, and enable the fixture offset value.
If n = 0, the fixture offs
et value is disabled.
is specified for a rotation
When a command to move the tool about a rotation axis involved with a
fixture offset is specified in the G54.2 mode, the coordinates about the
rotation axis at the end of the block ar
e used to calculate a vector. The tools
moved to the specified position on the work piece coordinate system that is
indicated by the vector.
Whether to cancel the fixture offset at a reset depends on the settings ofbit 6
(CLR) of parameter No. 3402 and of bit 7 (C23) of parameter No. 3408.
When CLR is set to 0 or CLR and C23 are set to 1, the vector before the
reset is saved.
When CLR is set to 1 and C23 is set to 0, the vector is cleared. The machine
does not move
by the cleared vector regardless of the
setting of bit 0 (FTP) of parameter No.
7570, however.
①
Setting a group of three parameters which specify one rotation axis and
two linear axes constituting the plane of rotation
(Parameter No.7580 to 7588)
In each group, specify the number of the rotation axis as the first
parameter and the numbers of th
e linear axes as the second and third
parameters. The rotation in the normal
direction about the rotation axis
must agree with the rotation from the
positive side of the linear axis set
as the second parameter to the positive side of the linear axis
set as the third parameter.
Example)Suppose that a machine has four axes, X, Y, Z, and C. The X–,
Y–, and Z–axes
form a right–handed coordinate system. The C–axis is a rotation
axis. When viewed from the positiv
e sideof the Z–axis, a rotation
in the normal direction about the C–axis is treated as the
counterclockwise rotation around the Z–axis.
For this machine, specify the parameters as follows
First parameter : 4 (C–axis)
Second parameter : 1 (X–axis)
Third parameter : 2 (Y–axis)
Up to three groups of parameters can be set. In calculation of the
fixture offset, the data of the ro
tation axis specified in the first
group is calculated first. Then, the data of the second and third
groups are calculated.