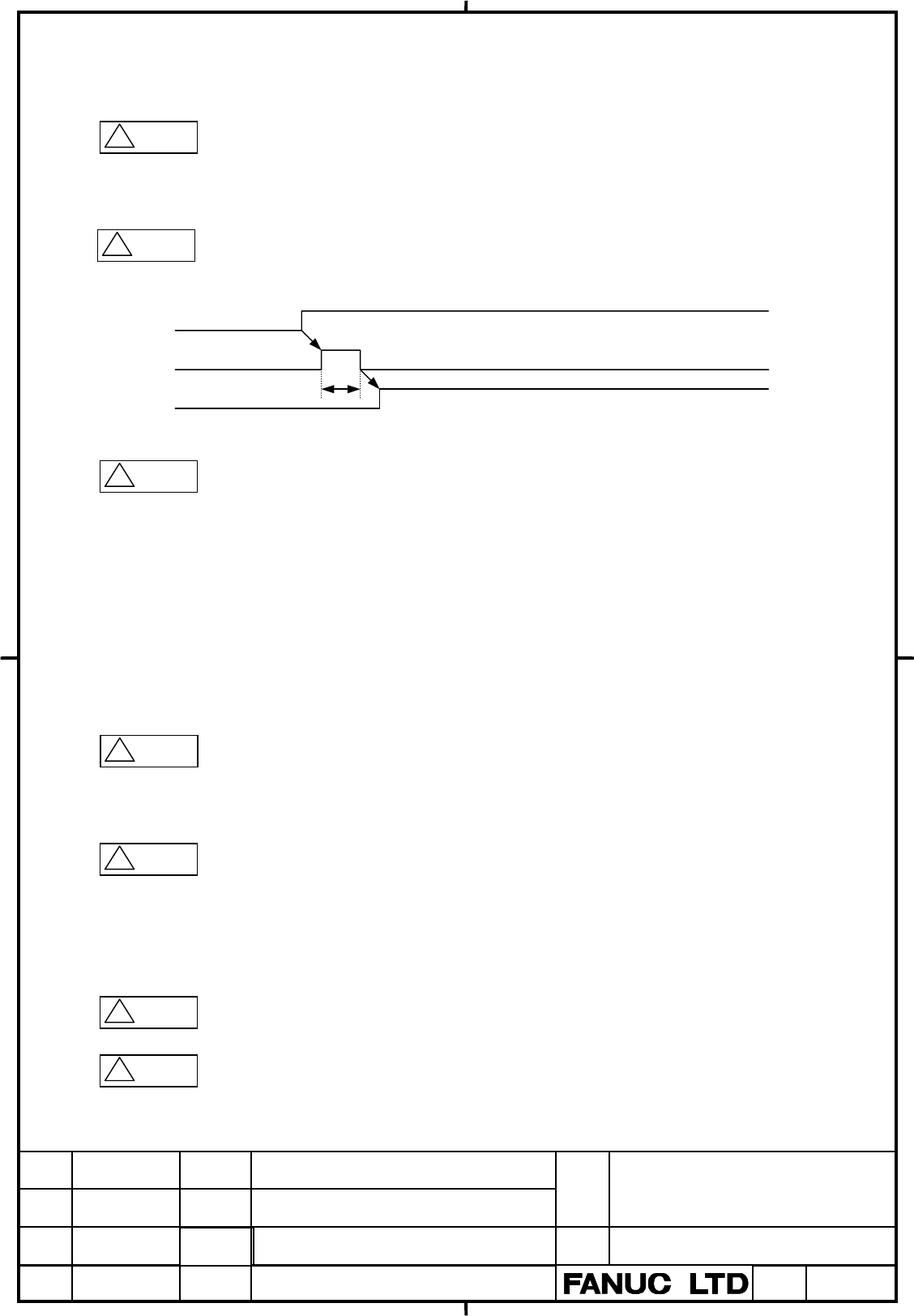 13
Manual for
Synchronous Spindle Motor Drive
EDT.
DATE
DESIG.

DESCRIPTION

PAGE

/29
A-63639E-103 /03
NO.
NEWLY Y.Toyozawa
K.Takahashi
02
2003.10.15

K.Takahashi
dded SSM etc. Y.Toyozawa
03
2004.06.09

K.Takahashi

Revised Pole detect, etc. Y.Toyozawa
6.4 Caution about SSM
The follows are caution about SSM.
[Without SSM]
(1) If it is not used SSM, Pa
rameter No.4020 (Motor maximum speed) must be limit. If neglect
this limitation item, it may be destroyed SPM. Please re
fer to No.4020 on the item of "6.1 Parameter for
SSM".
[With SSM]
(1) For the self-test of SSM, it is
necessary to turn SPM off or to turn MCC off/on at least once
a day. SPM executes the self-test of SSM when turns
MCC on (releases *ESP). This execution time for the
self-test of SSM is approximately
250msec ("t" in the following chart).
MCC: MCC is mounted betw
een Power supply and PSM, and the MCC switch line is
connected to CX3 of PSM. MCC is tur
ned off/ on by *ESP (G071#1: Emergency stop).
(2) Please check that perform
the next Test once after SSM m

ounting, and confirm that the
self-test function of SSM is working correctly. When not
performing this test, the protection function of SSM
may be lost; as a result, amplifier and a motor may be damaged at power failure etc.
Step 1. Please turn off the power supply of a machine.
Step 2. Connector CX3 on PSM, which works for SSM
and SPM, should be removed, so that a motor may
not operate accidentally during a test.
Step 3. Please remove the connector CX31 on Sub Module SM.
Step 4. Please switch on a power supply. After CNC
rises and the display of SPM changes from blanking
to lighting of "--", please release the emergency stop of SPM.
Step 5. It is normal if the alarm of No. 89 lights up
to SPM in the case of emergency stop release. When
not indicated by alarm, fault is in a cable, a parameter, or SPM.
Step 6. Please turn off the power supply of
a machine and return CX3 and CX31 certainly.
(3) SSM is started when SPM det
ected spindle alarm or inputting MPOF. As the result, the
motor is decelerated and stopped. This deceleration is
different from the normal deceleration because SSM
is worked. If SSM is breakdow
n, it may be destroyed SPM.
(4)
SPM neglects to reset the alarm for 120 seconds have
passed from SSM starting. A
nd it is necessary that
SST (speed zero) status is "1" for the alarm reset.
(5) If alarm reset is executed in
the state that the command is ent

ered, the operator may be felt
that the motor is suddenly rotates from the above matte
r. For preventing this matter, all command should be
cleared if spindle alarm occurred or MPOF (motor
power off signal) is entered. And the command should be
entered again after the reset completed.
(6) If MPOF signal [Motor power off signal: G228#2(15
i
), G073#2(16

i

)] is entered to SPM, SSM is started. The
driving motor will be decelerated (not be free run) and st
opped. But this deceleration is different from the
normal deceleration because SSM is worked.
(7) In case of the breakdown of
SSM, the using MPOF signal may be destroyed SPM. Therefore,
the using MPOF signal in high-speed area as to need SSM is not recommended.
(8) Do not insert switching equi
pment at power line between SPM and Motor. If power line is
disconnected while motor is rotating, SPM or Motor may be damaged.
*ESP (Emergency stop)
MCC
Self-test of SSM
t
Caution
Caution
Caution
Caution
Caution
Caution
Caution