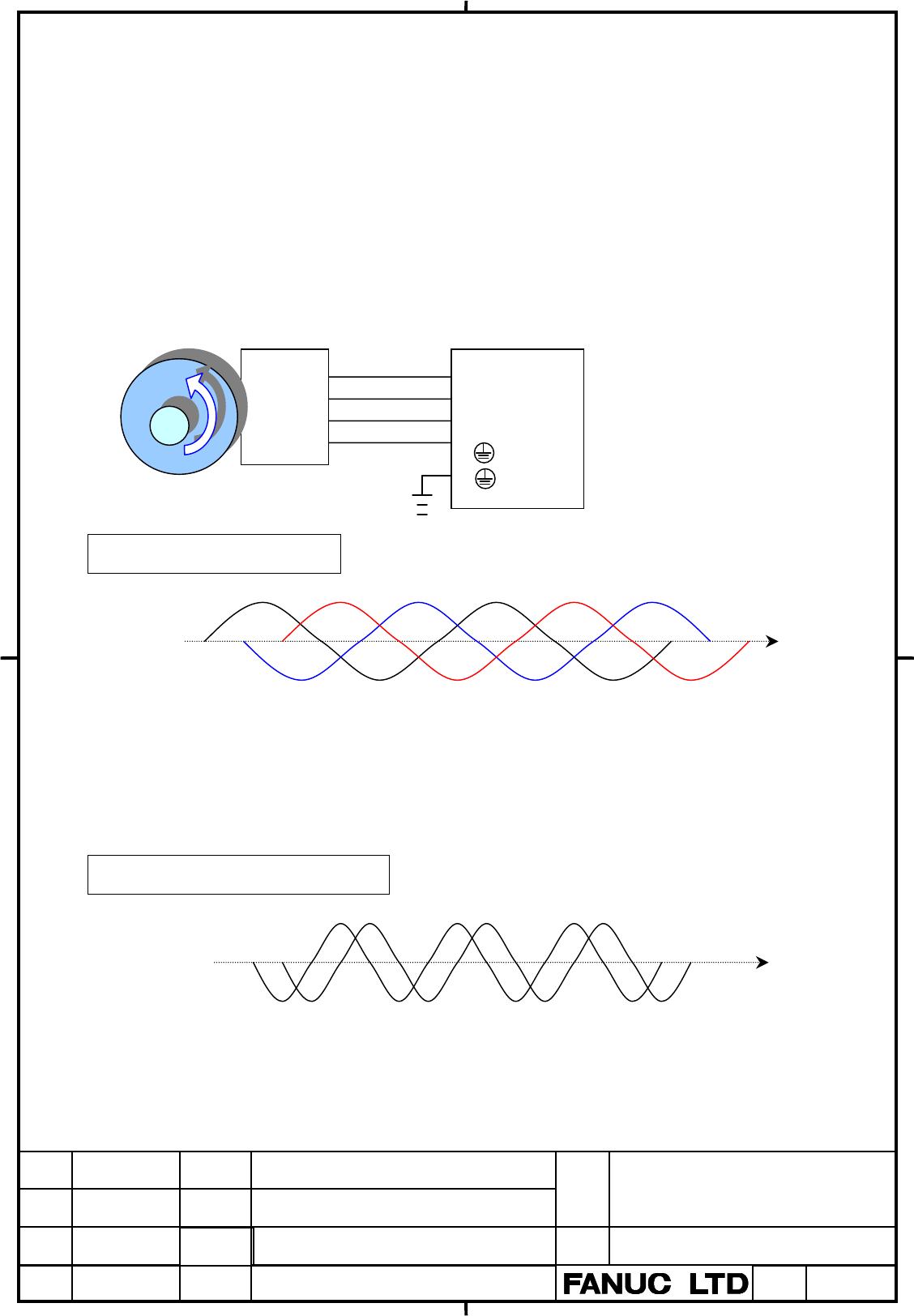 3
Manual for
Synchronous Spindle Motor Drive
EDT.
DATE
DESIG.

DESCRIPTION

PAGE

/29
A-63639E-103 /03
NO.
NEWLY Y.Toyozawa
K.Takahashi
02
2003.10.15

K.Takahashi
dded SSM etc. Y.Toyozawa
03
2004.06.09

K.Takahashi

Revised Pole detect, etc. Y.Toyozawa
2. Connection
Connects the synchronous spindle motor to SPM. In driving synchronous spindle motor, the motor is driven on
condition that the power cable and the f
eedback cable are connected as the follows.
2.1 Connection of power cable
The Symbol U, V and W are the power terminal of
the synchronous motor, and the
symbol u, v and w are the
power terminal of SPM.
When the motor rotates to the direction CCW viewi
ng from the flange side (output shaft side), please confirm
that the back EMF of U, V and W go forward in turn. It is
necessary to connect the power cable as the follows
according to this confirmation.
U, V, W order
---------------->
connec
t u and U, v and V, w and W
U, W, V order
---------------->
connec
t u and U, v and W, w and V
2.2 Connection of feedback cable
The feedback cable of BZ
i

/ CZ

i
sensor is connected to JYA2 on SPM.

W

hen the motor is rotated to the same
direction CCW as above power cable
check, the feedback signal A/B phase

should be observed as the following
chart.
If not, it is necessary to change A and B si
gnal so that the signal shows the chart order.
Back EMF phase order (CCW)
U V W
time
Feedback signal phase order (CCW
)
A phase
Time
U
V(W)
W(V)
(G)
CCW
u SPM
v
( )