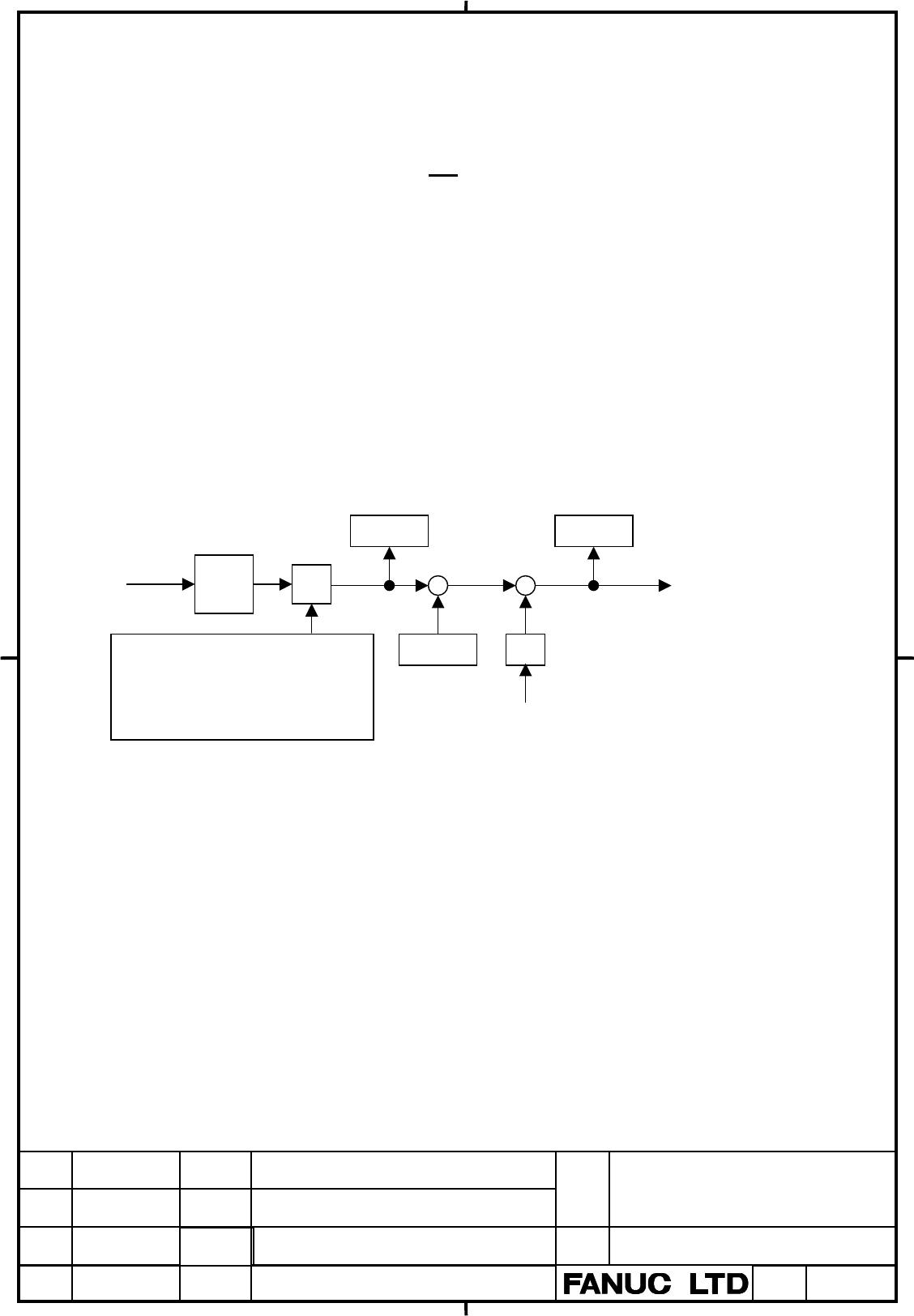 27
Manual for
Synchronous Spindle Motor Drive
EDT.
DATE
DESIG.

DESCRIPTION

PAGE

/29
A-63639E-103 /03
NO.
NEWLY Y.Toyozawa
K.Takahashi
02
2003.10.15

K.Takahashi
dded SSM etc. Y.Toyozawa
03
2004.06.09

K.Takahashi

Revised Pole detect, etc. Y.Toyozawa
4)
In this time, one measure is selected from
the follows by setting of parameter No.4084.
[Case 1: No.4084 = "0"]
SPM executes the measure (3) only, and
SPM continues to count pole-position.
[Case 2: No.4084 <> "0"]
SPM calculates the difference (A) between param
eter No.4084 and pole-position corresponds to the
reference signal position. And SPM adds this differenc
e (A) to pole-position. As a result, the motion of
pole-position transfers from line (2) to (1) as line "
".
(2) Setting about the AMR offset parameter
The related parameter to AMR o
ffset is set as the follows.
1) Set No.4008#6(NEGREF) to "0", No.4084 (AMR offset) to "0".
2) After the pole detection is finished, rotates the
motor at the speed 100min-1 degree and confirms the AMR
offset nominee. If SPM detects the reference signal
position, the AMR offset nominee will appear on the
display device.
3) Executes the above operation 2) at some times,
and calculates the average of AMR offset nominee.
4) For prevent the setting mistake, a
fter the motor exciting state is turned

off, set the average of AMR offset to
No.4084 and confirm the setting data.
5) Please, power off.
(3) Block diagram of excitation phase part (for reference)
The following block diagram is the
calculating part of excitation phase.
7.6 Alarm for Pole detection
Alarm 65 is generated to fail the pole detection. There is
a possibility that alarm 65 is caused by the follows.
Please confirm the following items in such a case.
(1) The setting of following parameters is mistaken. Number of the following parameter is for 16
i

.
No.4011#2,1,0 & No.4334 (Number of motor sensor gear teeth)
No.4011#7,3
& No.4368 (Pole number)
(2) The motor can't move by the friction because
the exciting current of pole detection is small.
If alarm 65 is occurred at this condition, please try
to increase the upper 2 digits of parameter No.4083
(3) The time to confirm motor stop (the lower 2 digits of parameter No.4083) is short.
If alarm 65 is occurred at this condition, please try
to increase the lower 2 digits of parameter No.4083
(motor stop confirming time).
(4) Feedback signal is miss count (noisy).
(5) The motor is bound.
(6) The power cable is disconnected.
(7)
The relationship between U, V, W connection order
of power cable and A, B connection order of feedback
cable is unfit.
Pole
pairs
feedback
(uses for control)
ch.596 ch.444
No.4085
K
+
+
Initial value: Completed position
pole-detection
When reference signal is detected,
If No.4084=0, continues to count.
If No 4084<>0
compensates
(A) and
motor speed
Σ
11
p/ 360degree