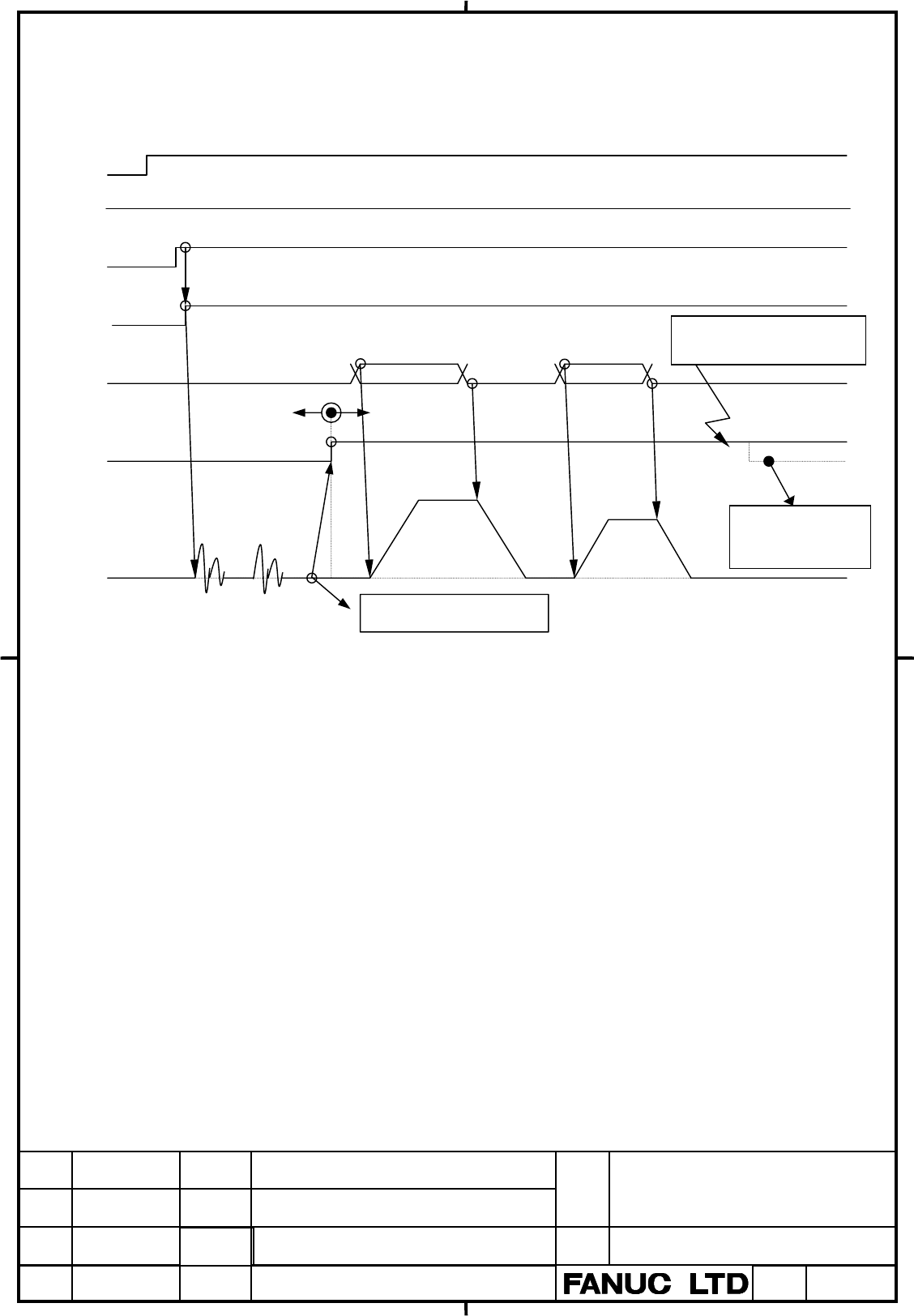 23
Manual for
Synchronous Spindle Motor Drive
EDT.
DATE
DESIG.

DESCRIPTION

PAGE

/29
A-63639E-103 /03
NO.
NEWLY Y.Toyozawa
K.Takahashi
02
2003.10.15

K.Takahashi
dded SSM etc. Y.Toyozawa
03
2004.06.09

K.Takahashi

Revised Pole detect, etc. Y.Toyozawa
7.4 Sequence of Pole detection
The pole detection must to be executing only once afte
r Power on or after happening of alarm that loses the
pole position. The sequence of pole detection
is as (1) and (2) as described below.
(1)
Case A (Parameter No.4007#7(16
i

):EPFSIG=0; used SFR/SRV as trigger signal)
When SFR/SRV is input in the lost pole position (EPFIX=0), that starts automatically the pole detection
sequence in advance of executing the ve
locity command. Then, the velocity

command get valid to run the motor
after EPFIX=1(the pole detection complete status
). Signal MPOF and EPFSTR must be not entered.
1)
Get motor drive ready in the velocity mode after Power ON.
2)
Set either SFR or SRV exclusive to 1.
3)
Pole detection is started automatically
in case of the lost pole state,EPFIX=0.
4)
Pole detection sets the temporary pole position a
fter moving at 0-degree position then at 90-degree position
(mechanical angle is 90degree/pole-pair)
5)
Temporary pole position setting outputs EPFIX=1 and t
he validated velocity command drive the motor. But
the velocity command should be set after Pole detection completed (EPFIX=1).
6)
If an alarm happens which could lose the pole position
already acquired, that makes EPFIX=0 of the lost
pole position. Try again the pole detection sequence from the first.
Pole detection complete
Motor Velocit
0-degree position 90-degree
position
(Electrical angle) (Electrical
Powe
MRDY
& *ESP
SFR orSRV
Velocit
command
EPFI
Pole set
Valid velocity command
Lost pole position
command
larm lost pole position
happens, EPFIX=0
MPOF=0
& EPFSTR=0