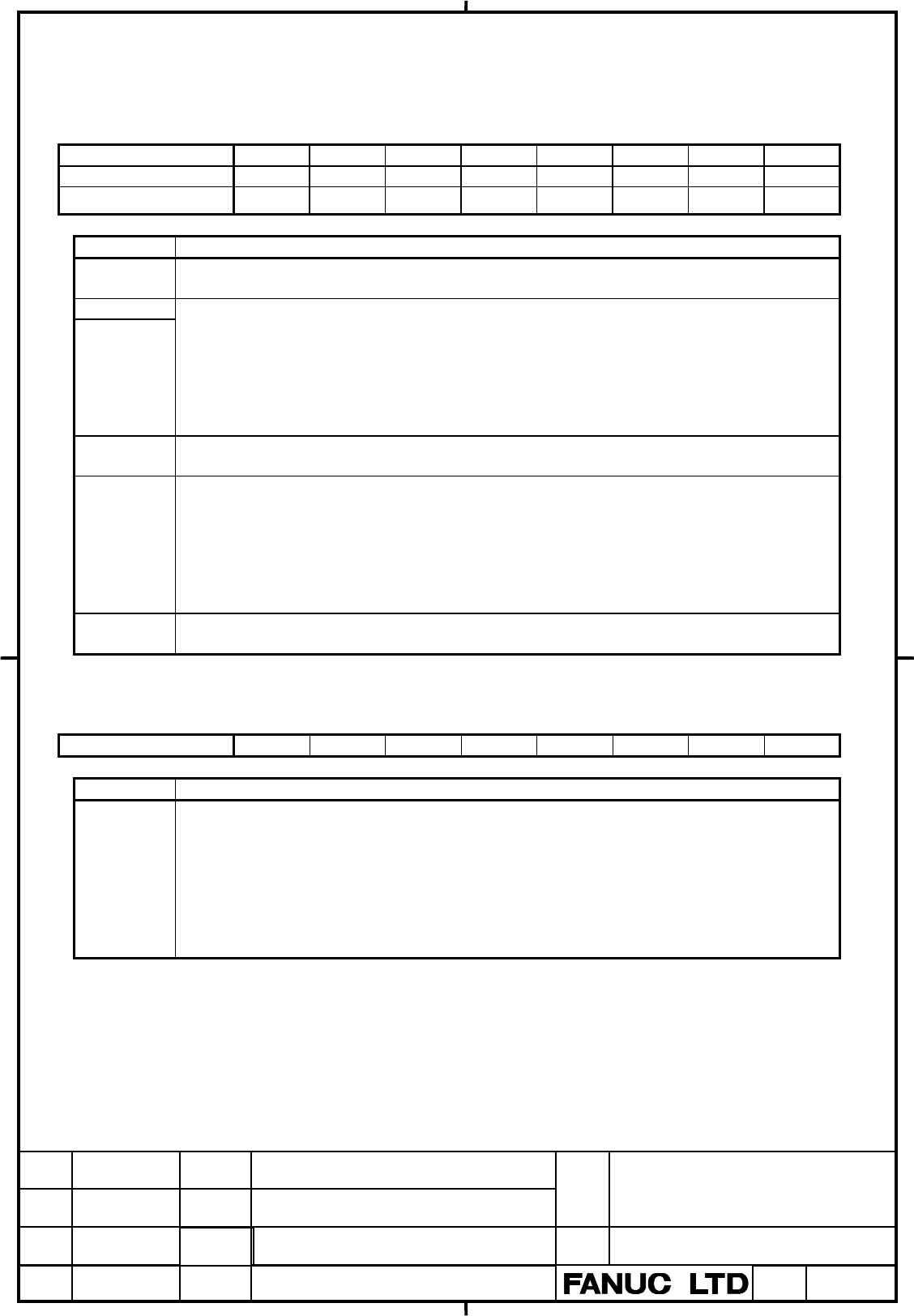 22
Manual for
Synchronous Spindle Motor Drive
EDT.
DATE
DESIG.

DESCRIPTION

PAGE

/29
A-63639E-103 /03
NO.
NEWLY Y.Toyozawa
K.Takahashi
02
2003.10.15

K.Takahashi
dded SSM etc. Y.Toyozawa
03
2004.06.09

K.Takahashi

Revised Pole detect, etc. Y.Toyozawa
7.3 Input/ Output signal for Pole detection
The following signals are used for Pole detection.
#7 #6 #5 #4 #3 #2 #1 #0
G227 G070 G070
MRDY
SFR
SRV
G228 G073 G073
EPFSTR
MPOF
SYMBOL
MEANINGS & REMARKS
MRDY
Machine Ready completed
Set to 1 before input the trigger of pole
detection such as SFR/SRV or EPFSTR.
SFR
SRV
These signal serve as both the rotati
on command and the trigger signal for pole
detection by inputting either SFR or SRV excl
usive. Up to the temporary pole position
set, these signal have the meaning not of the dire
ction but of the signal

excites the motor.
In this case either SFR or SRV excl
usive is to be turn on beforeEPFSTR=1.
As far as these signal are used to excite
the motor, the velocity command is not
executed during EPFIX=0 (Lost pole position). Bu
t it becomes effective to drive the motor
as soon as EPFIX=1 (Pole position setting).
*ESP Emergency Stop
Set to one before the trigger signal for Pole detection.
EPFSTR
The trigger signal to start the pole detection.
This choice for the pole detection enable an
operator to be conscious what he will do,
and to use together with EPFIX (Pole position state).
This signal must be turn off to zero after EPFIX set to one, because this signal make
the velocity command invalid and display Error-30 at SPM module.
Besides, this signal is not effective in case
that SFR/SRV is chosen as the trigger signal
for pole detection. In this setting (No.4007#7=0: 16
i
), don't input EPFSTR.
MPOF
Motor power off signal
Don't input this signal during the pole detection executes.
#7 #6 #5 #4 #3 #2 #1 #0
F230 F048 F048
EPFIX
SYMBOL
MEANINGS & REMARKS
EPFIX
Pole position status
0
: means the pole position in lost state. T

he trigger signal starts the pole detection.
1
: means on the pole position set by either te

mporary or fixed state. This signal reset
to zero if it is necessary to clear the
pole position because of such an alarm as the
feedback disconnection. You can get an operat
or to be conscious the behavior of
pole detection if an indicator on machine panel is lit.
If the following alarm is occurred, SPM forgets the pole position and EPFIX is set to "0".
Alarm number: 01, 24, 26, 31, 37, 65, 73