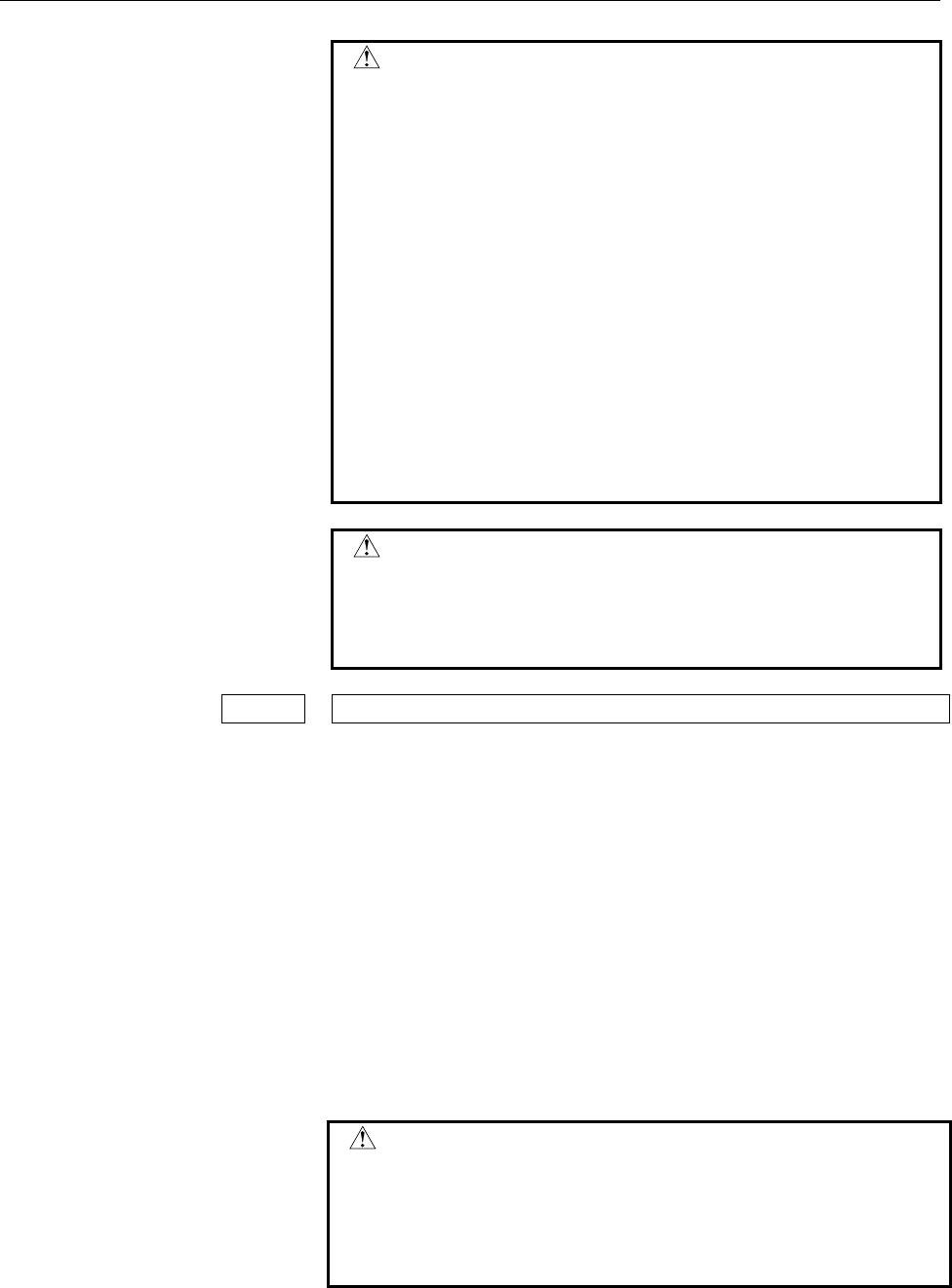 CAUTION
1
The checks are made on the basis of the machine
position to the detection unit. Accordingly, a
calculation error may occur.
2
Safe machine position parameter No. 1943, No.
1944, and No. 13831 through No. 13836 are safety
parameters, so that
these parameters are
protected using the key and code of Dual Check
Safety. To modify a safe machine position
parameter, set a code for safety parameters as the
key for safety parameters (parameter No. 3226).
3
When the value of a safe machine position
parameter (No. 1943, No. 1944, No. 13831 through
No. 13836) has been changed, the power must be
turned off before operation is continued.
4
For an axis with bit 0 (NP2x) of parameter No.
13802 set to 1, no machine position check is made.
WARNING
CNC and monitor check the machine position of
only each axis whose reference position is
established, and not check it of each axis whose
reference position is not established.
1945
Safety input signal check timer
[Data type] Word
[Valid data range]
0 to 1000
For input signals related to the dua
l check safety function (safety input
signals), two paths are used: one path for input to the CNC via the
PMC, and the other for input to the monitor via the FSSB. The CNC
and monitor exchange the input signals with each other at all times to
check each other. If a mismatch greater than the time set in this
parameter is detected between an
input signal via one path and the
same signal via the other path, a servo alarm No.479 or No.486 is
issued. If a value of less than 16 is specified, a specification of 16 ms
is assumed.
When a value greater than 1000 is set, the specification of 1000 ms is
assumed.
CAUTION
Set identical values in parameters No.1945 for the
following: two tool posts under 2-CPU 2-path control
with axis change between paths, two tool posts
under 1-CPU 2-path control, or tool posts 2 and 3
under 2-CPU 3-path control.
GFKE-0218-EN/02
- 110 -