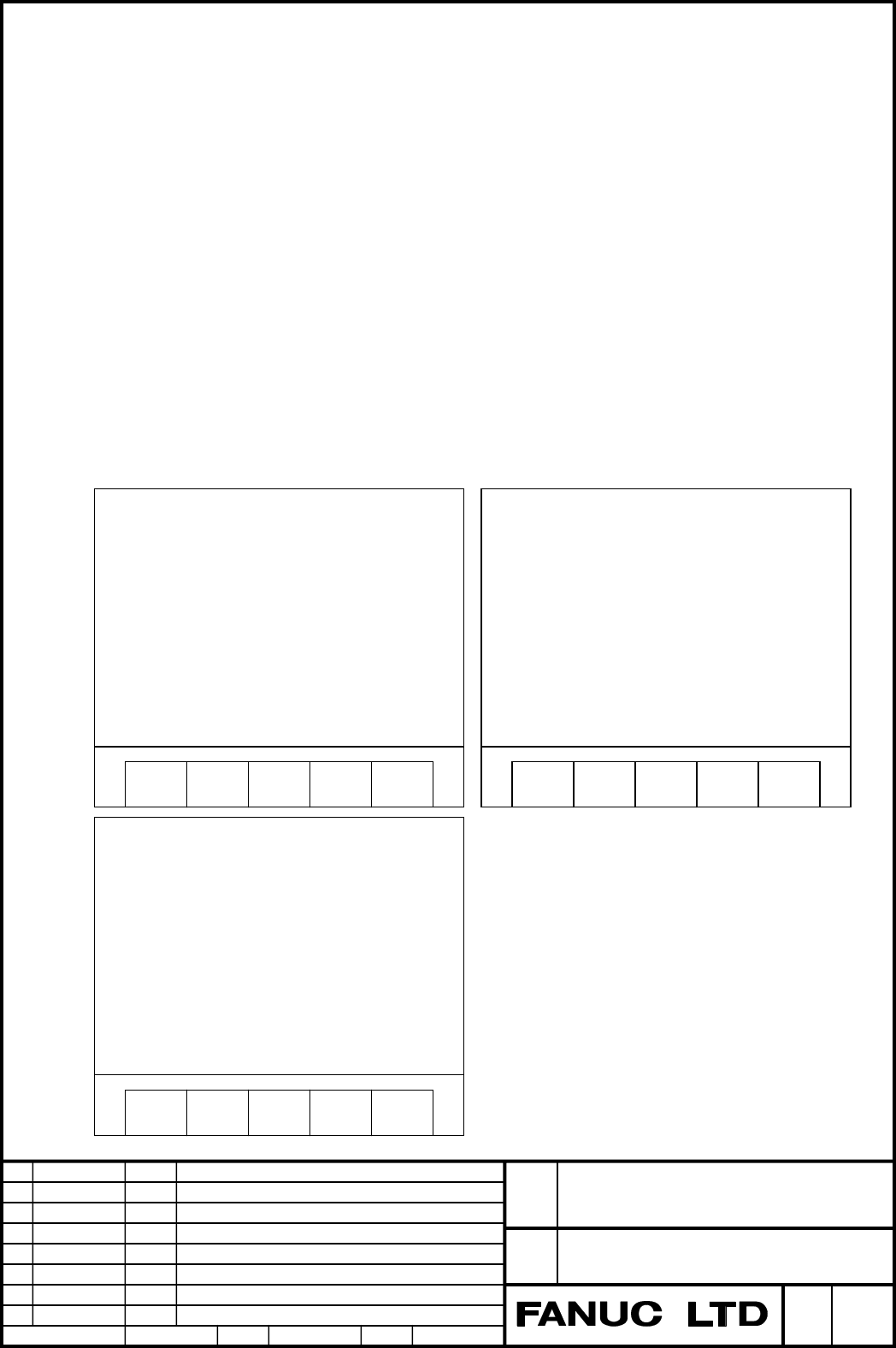 A-78075E
Edit
Apprv.
Sheet
Title
Draw
No.
Design
Descri
Laser maintenance screen function
Specifications
2000.03.06
5/21
Sheet Sheet
M.Sato K.Suzuki
05 2001.08.23 M.Sato Change all page. K.Suzuki
06 2001.10.11 M.Sato Change page 10. K.Suzuki
07 2003.12.04 M.Sato Change all pages. K.Suzuki
08 2003.12.19 M.Sato Change page 4,17. K.Suzuki
09 2004.06.04 M.Sato Change page 14. K.Suzuki
10 2004.06.09 M.Sato Change page 13. K.Suzuki
11 2005.02.23 M.Sato Change all pages.
2.3
Display of parts working time
2.3.1 Display
Push soft-key [ACT TM], screens for parts working time are displayed.
Color of working time display changes to red
in case working time is over 90% of the limit
time set in advance. And working time is displayed by reverse character in case working time
is over the limit time. The unit of wo
rking time and limit

time is 0.1 hour.
Push Page-key on MDI panel to change the screens.
2.3.2
Input of limit time and reset of working time
Input of SET TIME data is prohibited to avoi
d accidentally data input in normal status.
Please set PRM No.15160#1(MDS) to 1 in case of input SET TIME.
For limit time input and working time reset, positioning the cursor on each item by arrow-key,
input setting value from MDI key and push input-key.
Special soft-key, such as all-clear, is not pr
epared. Please set working time to 0 in case of
reset the working time.
Please set limit time to 0 in cas
e working time is not counted.
[ Screens for parts working time ]
1 OUTPUT MIRROR
12345678
12345678
2 FOLDING MIRROR
12345678
12345678
3 REAR MIRROR
12345678
12345678
4 SHUTTER MIRROR
12345678
12345678
5 B.P.L.U. MIRROR 1
12345678 12345678
7 WATER PATH CLEAN.
12345678
12345678
8
9
1 VANE PUMP OIL
12345678
12345678
2 VANE PUMP FILTER 12345678
12345678
3 GAS FILTER
12345678
12345678
4 CHILLER WATER
12345678
12345678
5 BLOWER OIL
12345678
12345678
7 O RING(VENTILAT.) 12345678
12345678
9
10
1 V-PUMP OVERHAUL 12345678
12345678
2 BLOWER 1 OVERHAUL
12345678
12345678
3 BLOWER 2 OVERHAUL
12345678
12345678
4 BLOWER 3 OVERHAUL
12345678
12345678
5 BLOWER 4 OVERHAUL
12345678
12345678
6