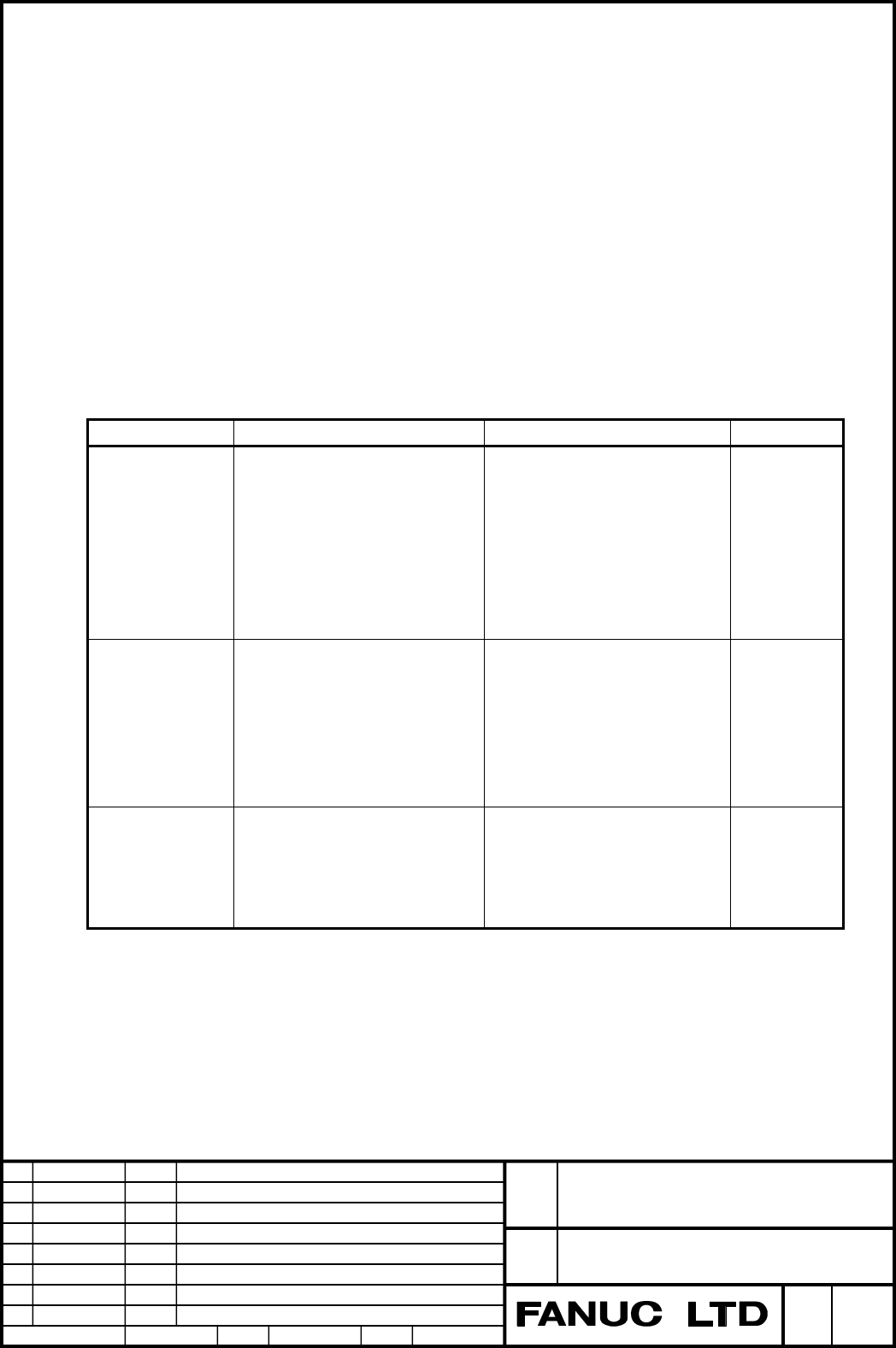 A-78075E
Edit
Apprv.
Sheet
Title
Draw
No.
Design
Descri
Laser maintenance screen function
Specifications
2000.03.06
6/21
Sheet Sheet
M.Sato K.Suzuki
05 2001.08.23 M.Sato Change all page. K.Suzuki
06 2001.10.11 M.Sato Change page 10. K.Suzuki
07 2003.12.04 M.Sato Change all pages. K.Suzuki
08 2003.12.19 M.Sato Change page 4,17. K.Suzuki
09 2004.06.04 M.Sato Change page 14. K.Suzuki
10 2004.06.09 M.Sato Change page 13. K.Suzuki
11 2005.02.23 M.Sato Change all pages.
2.3.3External signal (Output signals to PMC in case of over limit time)
If working time is over the limit time for any item, warning signal (F226#0) is output to
PMC.
And if the following items are over the limit
time, the signal (F226 #1 to #7) is output
corresponding to the each item. Pl
ease use these signals in cas

e warning lamps are equipped
on a operator's panel.
•
Mirror cleaning of optical compensation unit
2.3.4Display data
Maintenance work
Item
Condition to count the time
Signal
Change of
Vane-pump oil
RPA(Vane-pump)=ON
Consumable Vane-pump filter
RPA(Vane-pump)=ON
Parts Gas filter RPA(Vane-pump)=ON
Chiller coolant
Full time
F226#5
Blower oil RPA(Vane-pump)=ON F226#2
Discharge-tube O-ring RUN(G222#6)=ON
RUN(G222#6)=ON
Warning lamp
Cleaning Output mirror
F226#3
Folding mirror
F226#3
Rear mirror
F226#3
Shutter mirror
Full time
F226#3
Optical compensation mirror
1
Optical compensation mirror
2
Others Vane-pump overhaul
RPA(Vane-pump)=ON
Blower 1 overhaul
RPA(Vane-pump)=ON
F226#1
Blower 2 overhaul
RPA(Vane-pump)=ON
F226#1
Blower 3 overhaul
RPA(Vane-pump)=ON
F226#1
Blower 4 overhaul
RPA(Vane-pump)=ON
F226#1