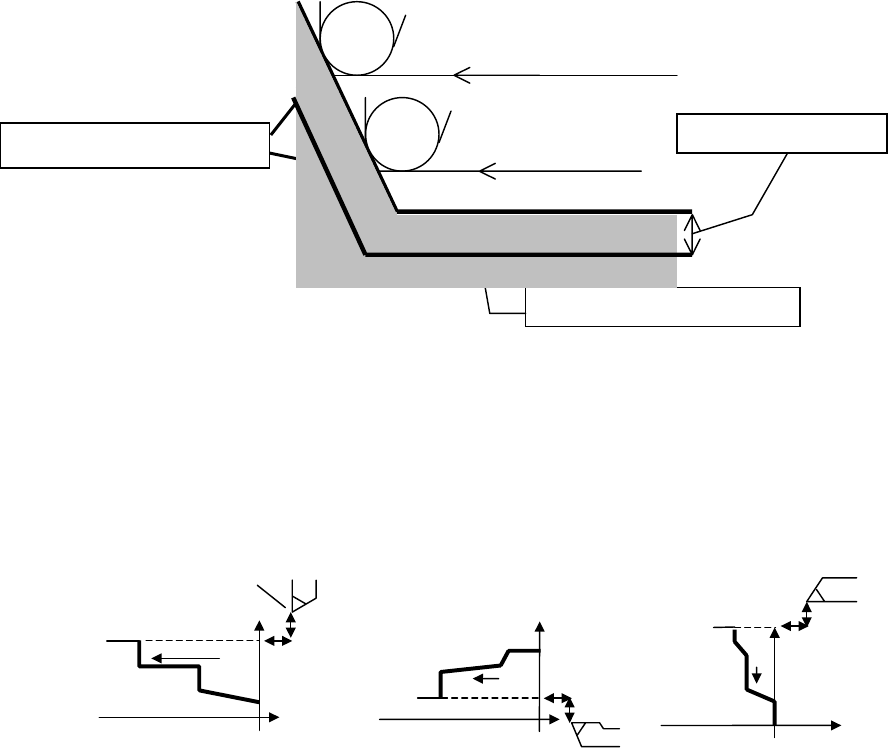 G101 Z-35.;
G101 X55.;
G101 X70.;
------ the last figure of the finishing figure
G139 ;
M99 ;
(Note) The example of the figure blocks is
programmed in the diameter units for
X-axis. So it is necessary to
set the PMC signal G296.0 to 1 for
executing this sample program.
(4) The Others
(4.1) About the tool nose radius
compensation of Bar roughing cycle
During Bar roughing cycle, G40 mode is displayed in the modal G code
information. But the tool nose radi
us compensation is

executed without
G41/42 command. By using T-offset
and imaginary direction (D-value),
turning cycle system calculates the
imaginary tool nose points as follows.
And the points are commanded. Therefor
e, on the position display, the
imaginary tool nose points are displayed.
(4.2) About the cutting start point
Cutting start point should be set as fo
llows. In the following explanation,
CLRX/ CLRZ means clearance amoun
t. And it should be decided by an
operator.
1. Cutting start point of Bar machining
1) Cutting start points of [OUTER]
X = [Xmax : Maximum outside coordinate of a figure] + [CLRX]
Z = [Zs : Z coordinate of figure start point] + [CLRZ]
Imaginary tool nose point
S
ecified finishin
fi
ure
finishin
allowance
Inner
+Z
+X
Xmin
Zs
Face
Zmax
Xs
Outer
Xmax
Zs
CLRX
CLRZ
Cutting start point
Fig.1.1.17
Fig.1.1.18