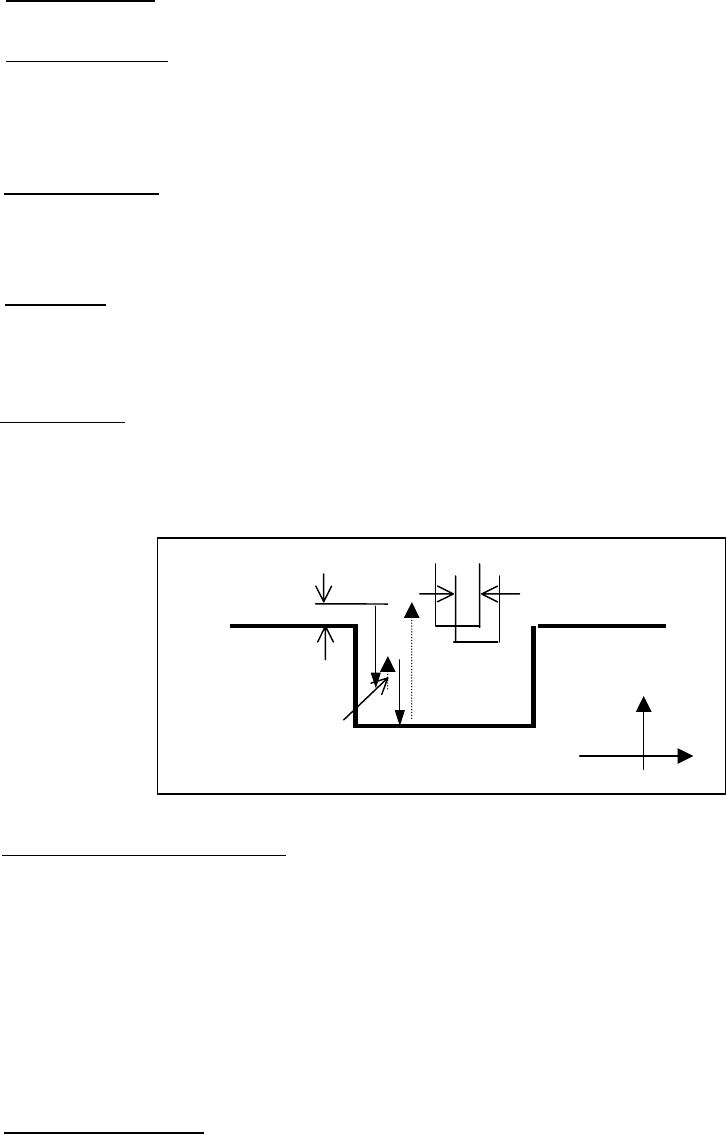 process data and figure data
B
Machining area

0=Outer, 1=Inner, 2=Face
(When "B_" is not specified, "M
achining area" is equal to B0)
0= Specify arguments as X
Diameter and Z Radius
1= Specify arguments as
X Radius and Z Radius
(In case of using the PMC si
gnal for selecting Diameter/
Radius, this argument cannot be used. )
Cutting feedrate of Grooving.
If the unit of the feedrate is Feed/mi
n or Feed/rev, it is accordance
with the Feed/min or Feed/rev co
mmand of the previous block.
(When "F___" is not specified, the previous feedrate is used)
Width of grooving tool at cutting edge.
(

When "E__" is
not specified, P/S alarm will occur
)
Overlaps between each cutting in grooving (proportion to the Tool
width) are set to the parameter 9825.
Infeed amount of the first cu
tting motion (When "Q___" is not
specified, P/S alarm will occur)
The parameter 9824 is used as t
he Return amount of pecking.
And the parameter 9820 or 9821
is used as the

Clearance amount
X or Z.
J
rate of change of cut amount
Cut amount after the second cutting motion is decided as described
bellow ( When "J__" is not specifie
d or J0 is specified, the cut
amount does not change) Unit:1%
nd
st
cut amount x the argument
J/100
rd
nd
cut amount x the argument
J/100
The N
th
th
cut amount x the argument J
/100
The cut amount calculated as abov
e is clamped by this specified
argument like the cut amount does
not become less than the
argument amount. (When "K___" is not
specified, "minimum cut
amount" is equal to zero)
Overla
Clearance amount
Return of Pecking
Fig.3.1.2