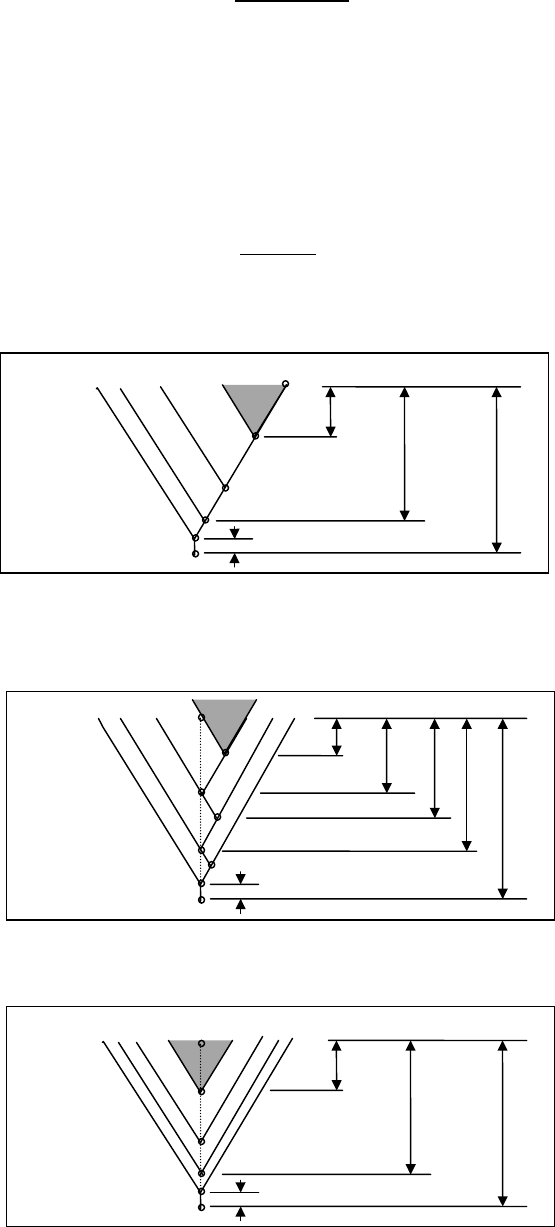 Unified type is performed accordi
ng to the unified thread standard.
In case of specifying the lead of
thread in "the number of thread per
inch" units, specify Unified type.
Specify the Depth of cut for t
he first pass or Number of cuts.
The meaning of "Q" is accordance
with the specifi

ed argument "E".
(When "Q_" is not specified, P/S alarm will occur)
Number of cut includes number of Spark Out. When Zigzag
cutting is specified as the cu
tting method, the number of cut
except the number of spark out must be even number.
There is the case that the specifi
ed number of cut is different with
actual number of cut by a calc
ulation error or minimum cutting
amount which is specified
by the parameter 9833.
Specify the cutting method. (When "C
_" is not specified, method is
equal to C1)
Single edge cutting, Constant cutting amount
C=1
In case of Q=0.1, d
n
is calculated as follows
d1=Q=0.1
d2=Q*sqrt(2)=0.1*1.414=0.141
d3=Q*sqrt(3)=0.1*1.732=0.173
d5=Q*sqrt(5)=0.1*2.236=0.223
d6=Q*sqrt(6)=0.1*2.449=0.245
Note) When X-axis is diameter mode, Q is
diameter value.
H = Thread height
D = Depth of cut
u = Finishing amount
Zigzag cutting, Constant cutting amount
C=2
In case of Q=0.1, d
n
d1=(Q*sqrt(2))/2=0.1*sqrt(2)/2=0.071
d2=Q*sqrt(2) =0.1*sqrt(2) =0.141
d3=[Q*{sqrt(2)+sqrt(4)}]/2
=[0.1*{sqrt(2)+sqrt(4)}]/2 =0.171
d4=Q*sqrt(4) =0.1*sqrt(4) =0.2
d5=[Q*{sqrt(4)+sqrt(6)}]/2
=[0.1*{sqrt(4)+sqrt(6)}]/2 =0.222
d6=Q*sqrt(6) =0.1*sqrt(6) =0.245
d
n-2
= D sqrt(n-2)
Straight cutting, Constant cutting amount
C=3
n
d2=Q*sqrt(2)=0.1*1.414=0.141
d3=Q*sqrt(3)=0.1*1.732=0.173
d5=Q*sqrt(5)=0.1*2.236=0.223
d6=Q*sqrt(6)=0.1*2.449=0.245
d
1
d
n
=
d
1
d
n-2
d
n-1
d
n
d
1
d
n
=
Dsqrt(n)