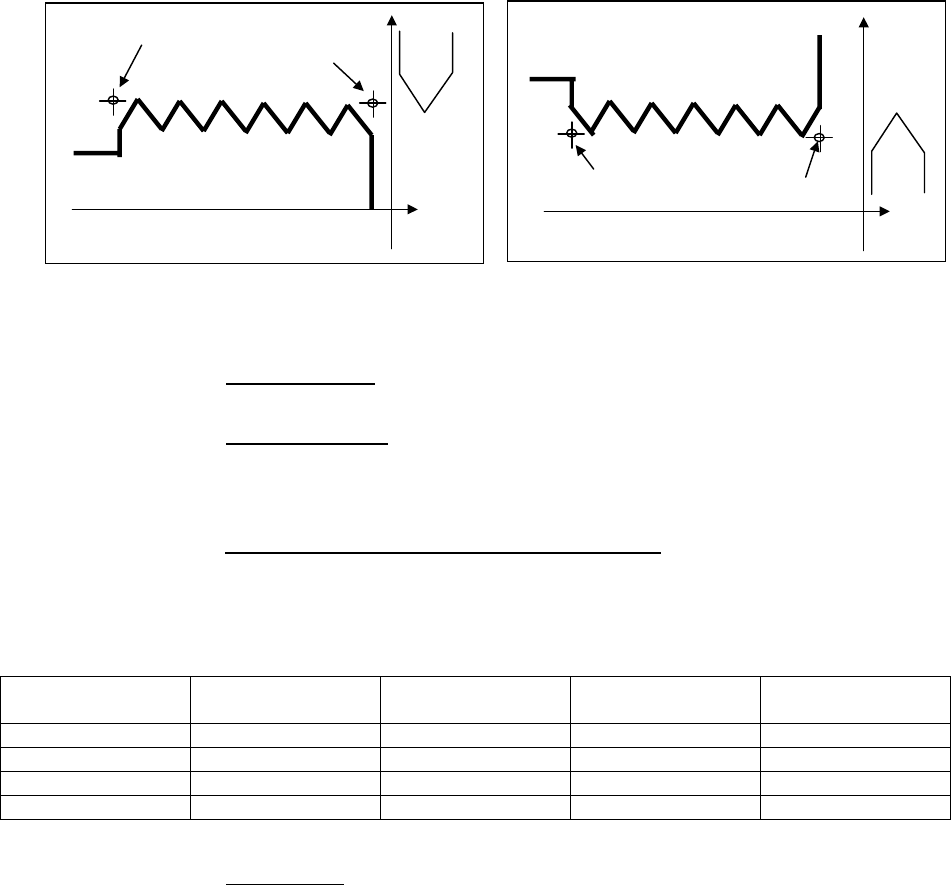 (Note) Chamfering cannot be specified.
(Note) Specify the end point and start poin
t of the thread as the following figure.
(Note) T-argument is nou used for the tool offset in this cycle.
(Note) In this cycle, G41/G42 is cancelled.
(Note) In this cycle, chamfering can not be specified. It, therefore, must
considerrate the incorrect thread length when the thread figure is
programmed.
the process data
B
Machining area

0=Outer, 1=Inner
(When "B_" is not specified, "m
achining area" is equal to B0)
0= Specify arguments as
X Diameter and Z Radius
1= Specify arguments as
X Radius and Z Radius
(In case of using the PMC si
gnal for selecting Diameter/
Radius, this argument cannot be used. )
E
Cut times/ Cut amount + Lead/ Num. of thread
Cut amount=0, Cut times=10
Lead=0, Num. of thread=100
(When "E__" is not s
pecified, Cut amount

and Lead are selected.
Refer to the following table.)
Argument E
Q cut amount
Q number of cuts
L lead of thread
(pitch)
L number of
thread per inch
E0. Applied Not Applied Not
E10. Not Applied Applied Not
E100. Applied Not
Not Applied
E110.
Not Applied Not Applied
R
Thread type

Specify the type of thread
General=1, Metric=2, Unified=3
(When "R_" is not specified, P/S alarm will occur)
General type is the same as conventional threading. In case of
using the tool tip angle except 60.0 degrees, spec
ify General type. In
Metric and Unified type, the angl
e is fixed to 60.0 degrees.
Metric type is performed according
to the metric thread standard. In
case of specifying the lead of thre
ad in "mm" units, specify Metric
type.
+Z
+X
Start point
End point
Outer thread
+Z
+X
Start point
End point
Inner thread
Fig.2.1.2