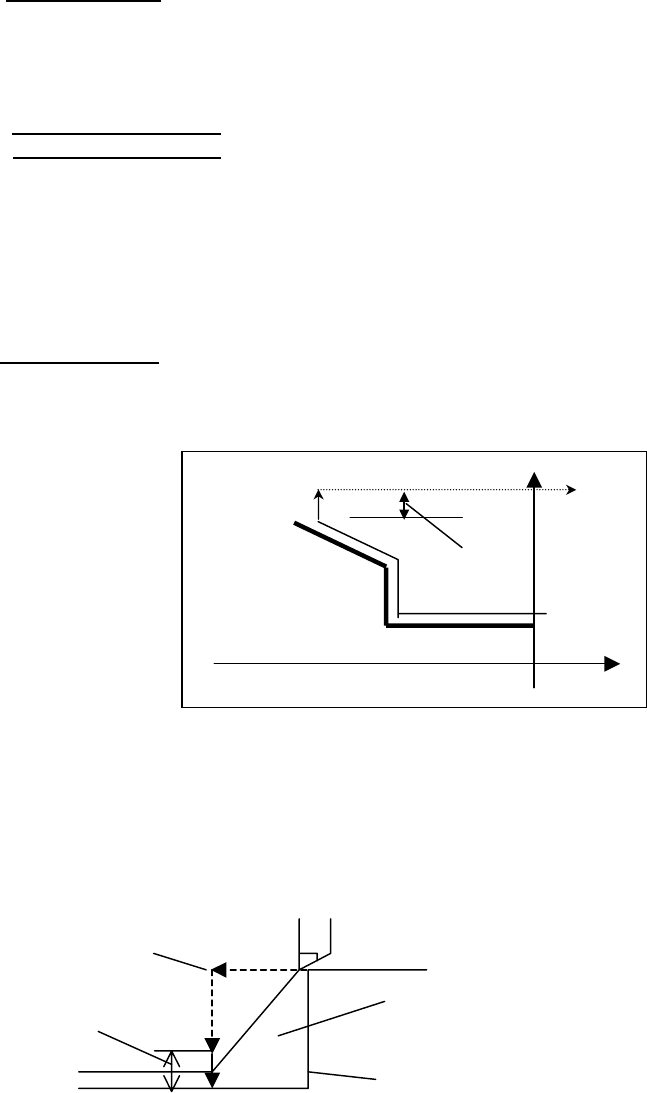 Cutting feedrate of Bar Finishing. Whether unit of the feedrate is
Feed/min or Feed/rev, it is ac
cordance with the Feed/min or
Feed/rev command of the previous
block. (When "F___" is not
specified, the previo
us feedrate is used)
*
U

Finishing allowance X
X direction amount of semi-finishing
Z direction amount of semi-finishing
In case of the parameter P
9761<#6:SEM>=1, these arguments can
be used. When these arguments are commanded, semi-finishing is
executed. Even though P9761=1,
if U and W are not commanded
or commanded by value W0 and U0,
finishing is executed. And
also, in case of P9761<SEM>=0, finishing is executed. (Refer to
the explanation of "(4) About
the meaning and difference of
Roughing, Semi-finishing and finishing")
Travel amount in X-axis (Outer/Inne
r) or Z-axis (Face) for retracting
after cutting. (When "E___" is not
specified, the parameter
9797/9798 is used as t
he Release amount.)
(3) Cutting edge/back
compensation in G710 cycle
The cutting edge/back compensation is not
executed in G710 finishing and
semi-finishing.
In G710 cycle, the remained residual cutting part generated by roughing
operation is machined as follows.
Approach amount E equals to the release
amount E specified in G710 block. A
tool moves the distance of
approach amount E in G01.
Release amount +
Nose Diameter
+X
+Z
Remained residual cutting part.
(This part is decided by the edge
angle, nose angle and TLBACK)
pproach amount E
Finishing figure
G0
G0
G0
This point is decided by the amount
of the remained residual cutting
part
Fig.1.2.2
Fig.1.2.3