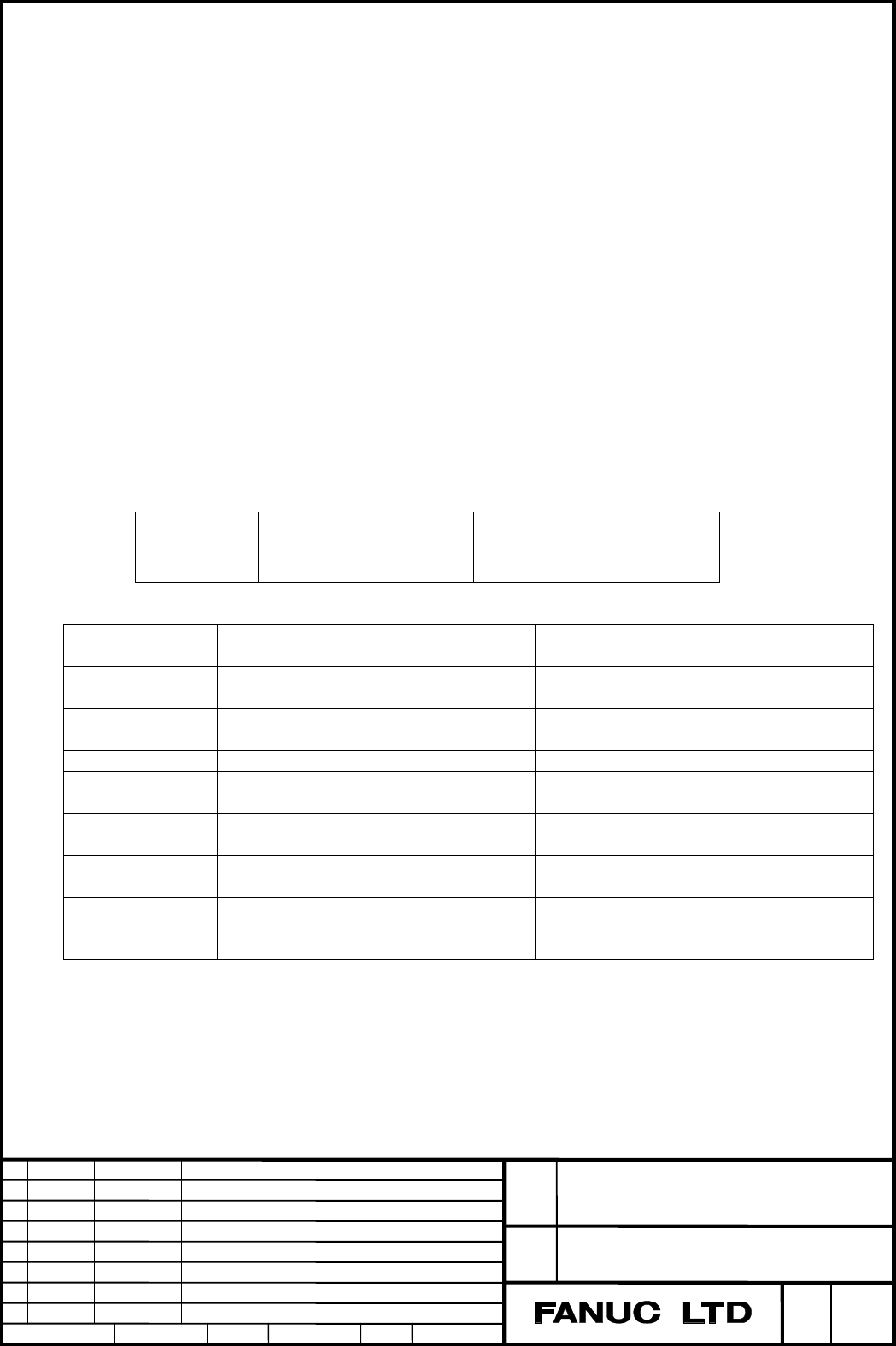 A-79805E
Title
Draw
No.
5/40
Sheet
FANUC Series 30
i
/ 31

i

/ 32

i
Live Tool Control With Servo Motor
Edit
Date
Design
Descri
tion
Date
Oct.26.2004
(2) Conditions under which spindle speed command output is stopped
The output of a command once output to the spindle becomes 0
if a command is specified which causes the spindle speed command
output to become 0, such as *SSTP of "0" and a S0 command.
Spindle speed command output also becomes 0 if live tool indexing
(G96.1/G96.2) is specified.
Also, spindle rotation stops with
an emergency stop, servo alarm, and so on.
M05 does not cause the CNC to set the output of a command to the
spindle to 0.
(3) Stoppage of rotation with live tool indexing
By specifying the desired stop position, you can stop the rotating
spindle at that specified position. For details, see Chapter 3,
"Live tool indexing function."
(4) The maximum speed
It is possible to command up to 27770min
-1
by setting parameter IRC
(No.1408#3) though the maximum speed that can be commanded is
usually about 2777min
-1
.
However, the speed is limited by the
performance of the motor and the detector.
-Speed control and position cont
rol switching command examples
Spindle name
Spindle selection P code
(parameter No. 3781)
Live tool axis address
Command with a program (SV speed control mode in-progress signal (Fn521))
Program
command
Speed control mode ON/OFF
Operation
G96.4 P1 ;
ON (SV speed control mode in-progress
signal (C)=1)
SV speed control mode ON (C)
CW rotation about servo motor rotation axis C0
at 100 [min
-1
]
G96.1 P1 R0 ;
OFF (SV speed control mode in-progress
signal (C)=0)
Stoppage on servo motor rotation axis C
with C = 0 (live tool indexing)
G00 C180.0 ;
OFF (SV speed control mode in-progress
signal (C)=0)
Positioning with C = 180 degrees
M03 S200 P1 ;
OFF (SV speed control mode in-progress
signal (C)=0)
Storage of M03 S200, with no rotation
G96.4 P1 ;
ON (SV speed control mode in-progress
signal (C)=1)
CW rotation about servo motor rotation axis C
at 200 [min
-1
]
SV speed control mode ON (C)