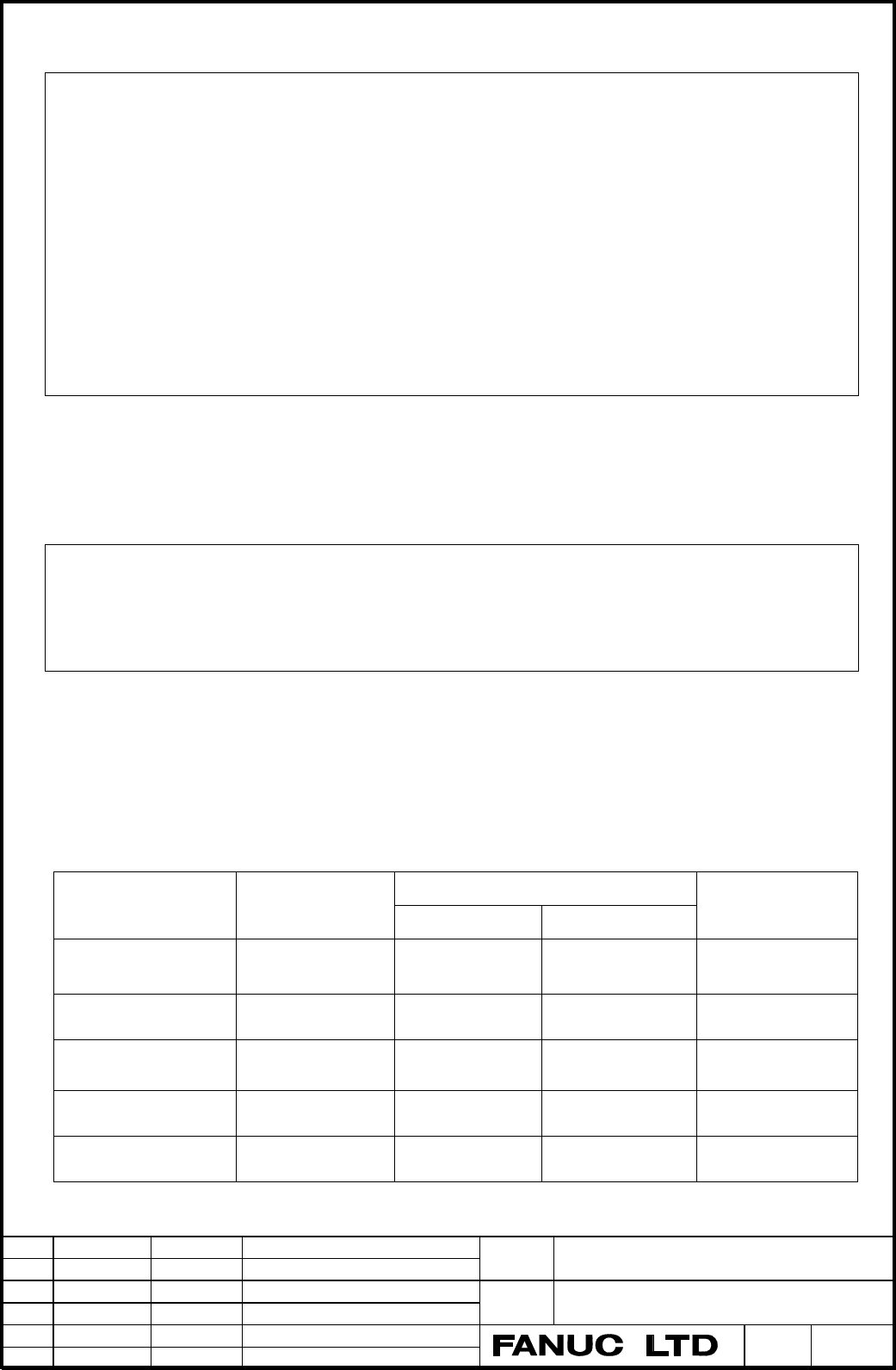 Learning Control Operator's Manual
A - 63639E - 108
01 '05.04.20 N.Sonoda Newly designed
Sheet
016
Edit Date
Design
Description
(2) Turn off the power supply, then turn it
on. (Auto loading of parameter for each motor)
Note
1) In case of Learning axis, set the following
parameters and turn off / on the power supply.
•
No.2019#6 set to 1 for Learning axis
•
No.2019#5 set to 1 for Preview repetitive axis.
2) In case of Linear motor, set the followi
ng parameters and turn off / on the power supply.
In detail, refer to "FANUC AC SERVO MOTOR
α
is
/ α
i / β

is

series Parameter Manual".
Example) Linear scale (LS486, 20
μ
m pitch), L
i
s6000B2 (magnetic pitch 60mm)
•
No.2112 set o 512
∗
(60/20)=1,536
5.1.4
Caution for servo parameter setting (for transferring from series16
i)
The parameter number for Learning control is different between series 16
i
and series 30
i
.

Refer to
Appendix 6. Parameter number difference between series 16
Note
Learning servo software 90D3 series is fu
lly upper compatible with standard servo software
90D0 series. Learning parameters for 90D3 se
ries have been moved because the part of
Leaning parameters for conventional
90B3, 90B7 series have ov
erlapped with parameters of
other function for standard 90B0 series.
Velocity loop proportional high-speed processing func
tion performs velocity proportional routine with
high-speed sampling. The part of parameters in conv
entional 90B3, 90B7 series had to be set by manual
depending on sampling rate. But these parameters in 90D
3 series are automatically set the converted
parameter to inside parameter. In order to keep com
patibility with conventional parameter, the compatible
bit parameter (No.2227#2) is prepared.
90D3 series
Function
90B3, 90B7
series
No.2227#2=0 No.2227#2=1
Remark
Tcmd filter
No.2067=0
Invalid Valid (300Hz) Invalid
When
No.2017#7=1
Tcmd filter
No.2067
Manual setting
Automatic
converting
Manual setting
When
No.2017#7=1
Acceleration
feedback No.2066
Available Unavailable Available
When
No.2017#7=1
Integral gain PK1V
No.2043
Manual setting
Automatic
converting
PK4V No.2044
Manual setting
Automatic
converting