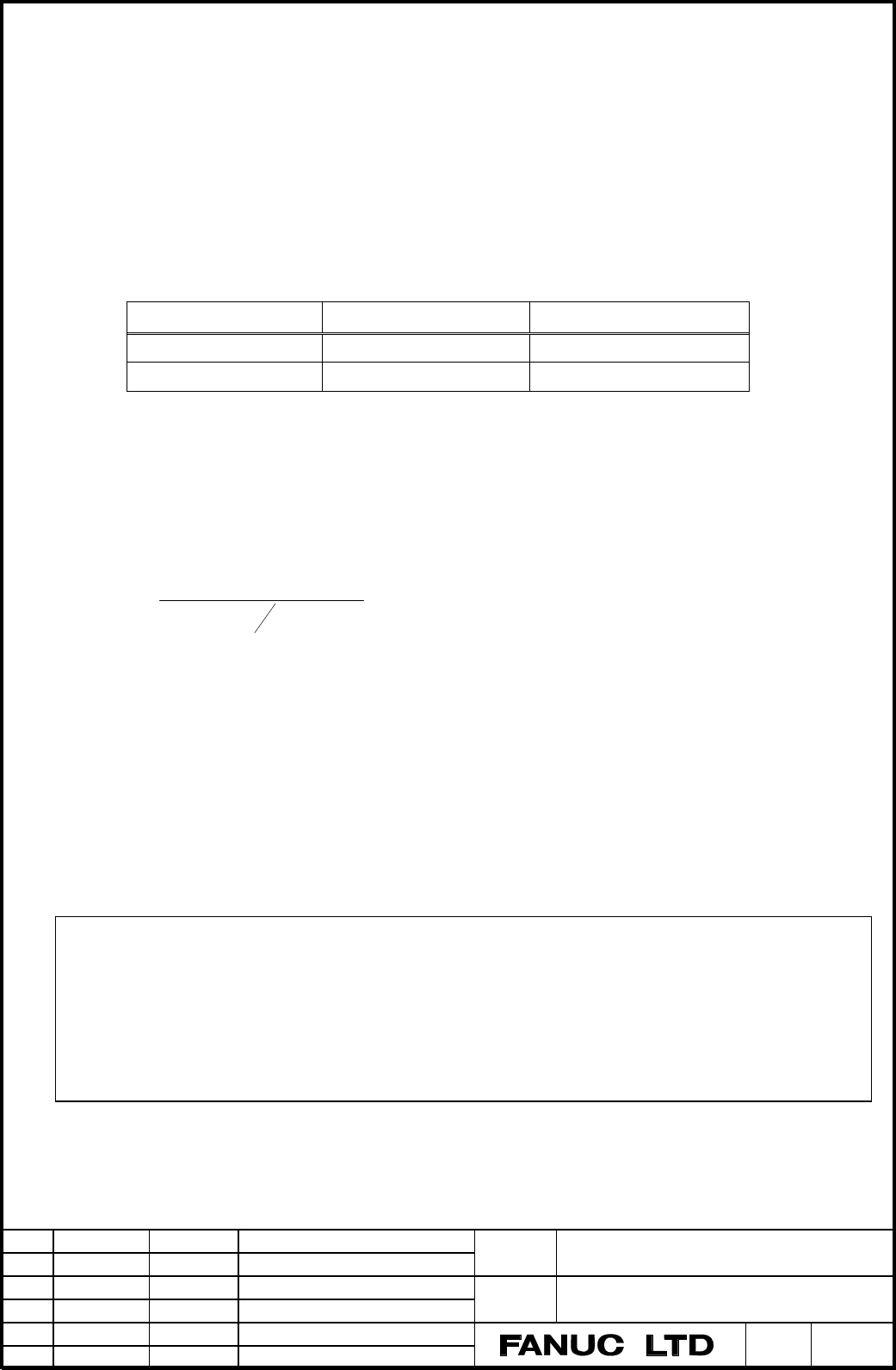 Learning Control Operator's Manual
A - 63639E – 108
01 '05.04.20 N.Sonoda Newly designed
Sheet
038
Edit Date
Design
Description
/ 064
7.1.3 Cautions
Learning memory-expanded function realizes the ex
pansion of learning memory by altering a sample
rate. It has automatically the sampler gather the data
roughly every 2 to Nth power in case of long
Learning period or many profiles and Learning steps,
because of which case many compensation data
run out of the memory belong to servo DSP. Ther
e is the possibility for rough sampling to make the
accuracy inferior to one without Thinning out.

Calculation method of the sampling period in case of Total profile number PRFALL

≠

0
Definition: BUFSIZE is the buffer-size of whic
h possible capacity depends on the installed memory
on PCB controlling axis. BUFSIZE is following.
Servo Software
PCB order spec.
BUFSIZE
(sample data)
90D3 A02B-0303-H088 290816
90B3, 90B7
A02B-0236-H088
76800
Maximum Learning period :
Max_PRIOD
is Learning period PRIOD that have largest period among
from 1'st to 5'th Learning steps.
Total profile number:
PRFALL
is No.2512
Learning step number in use:
STEPNO
is the number you are using as Learning step setting from
No.2518 to No.2525.
Exponent of 2:
n
is calculated by above formula and the sampling period is the multiple of 2 to n'th
power.
Learning period automatically samples every above
MULT and the parameter PRIOD should be set to
the multiple of MULT.
[Example] Supposing you use 24 profile
s in one camshaft, which means PR

FALL=24. A profile of them is
ground using 5 Learning steps, among which the l
ongest Learning period is 6000 msec. That is
Max_PRIOD=6000 (msec), STEPNO=5, BUFSIZE=290816.
Above formula result in n=2 meaning MULT=4. Therefore sampling period gets fourth time.
Note
Because of Max_PRIOD of a profile deciding one
MULT, another step of the profile have the same
sampling rate as result. This mean, though one profile has the common sampling rate all over,
there is possibility the different sampling
rate may be used on different profile.
Exceptionally in case of PRFALL=0, calculate above with it to five.
×
nMULT
n
PRFALL
BUFSIZE
STEPNOMax_PRIOD