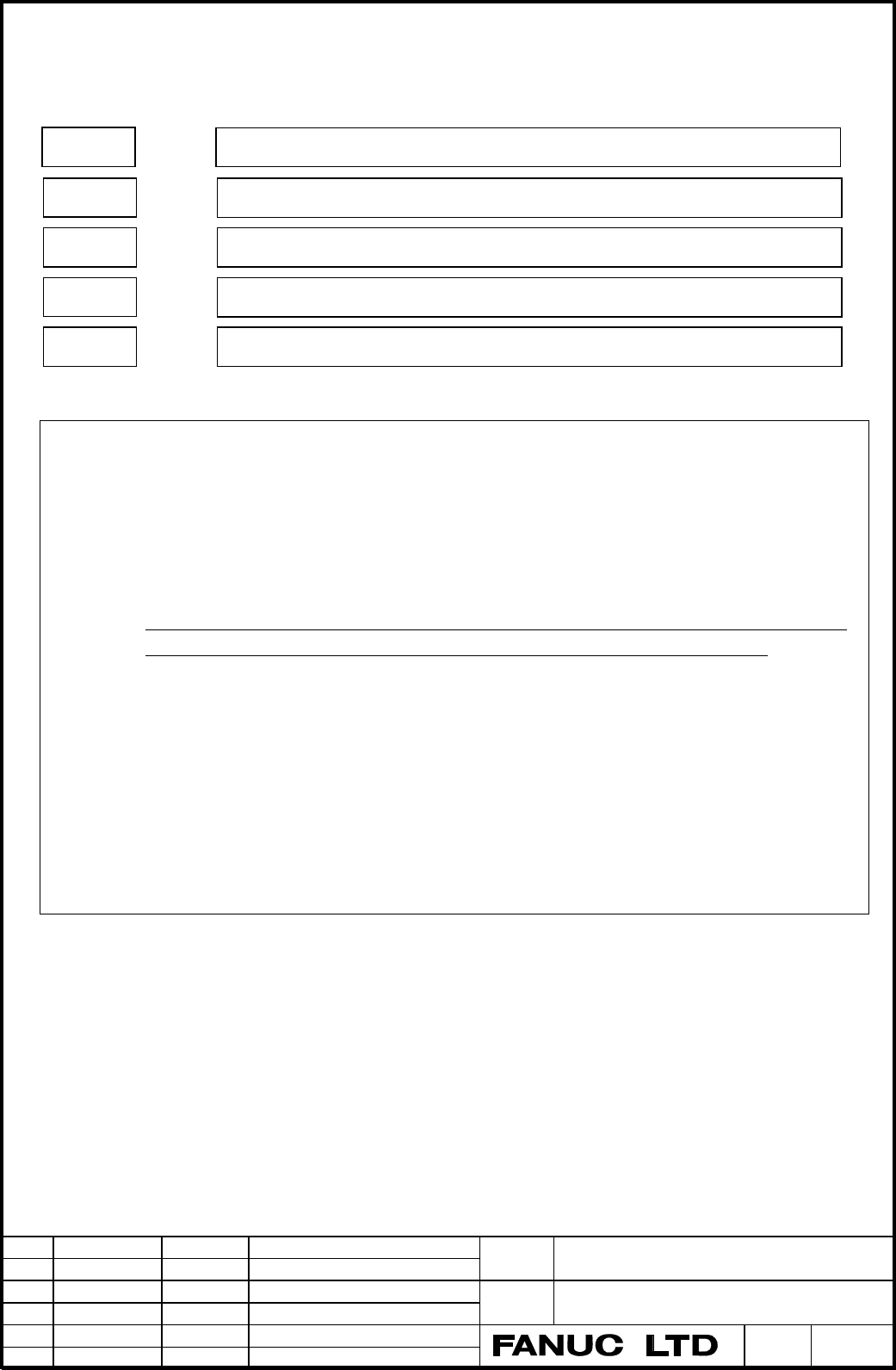 Learning Control Operator's Manual
A - 63639E - 108
01 '05.04.20 N.Sonoda Newly designed
Sheet
031
Edit Date
Design
Description
In case of Expanded Gx chosen with EXGX (No.2443#3 ) one set, you need to set for the following
parameters.
Note
1) Dynamic characteristic compensation Gx
is composed from three parameters No.2526,
No.2527, No.2528, which symbols are
GODMX, GODMN, GCOEF respectively.
Furthermore six successive parameters
from No.2528 to No.2533 are named Expanded
Gx.
2)
Attention to No.2528 double assigned by bot
h Gx and Expanded Gx. Either of Gx or
Expanded Gx is to be active, not both.
3)
In usual case you need not to change Gx or Expanded Gx from
Appendix 3. Parameter
table for Learning control
so long as the problem of the accuracy doesn't occur.
4)
If it occurs, you need to tune three parameter
s of Gx after reset EXGX (No.2443#3) to zero.
Due to many parameters of Expanded Gx, it is
recommended to disable it by EXGX=0.
5)
Gx compensates the characteristic of
controlled object. GODMX and GODMN improve the
phase characteristics of controlled object. The
greater both values are, the more advance
value of phase it have. GCOEF is the co
mpensation parameter to improve the gain
characteristics of controlled object. As the values are greater, the value of gain gets greater.
There is a predetermined parameter set fit to eac
h properties of the motor such as velocity
6)
If there is not a parameter set you want
to use, please consult to our sales.
EXGXK 5
Coefficient 5 of expanded Gx
EXGXK 6
Coefficient 6 of expanded Gx
EXGXK 4
Coefficient 4 of expanded Gx
EXGXK2
Coefficient 2 of expanded Gx
EXGXK 3
Coefficient 3 of expanded Gx