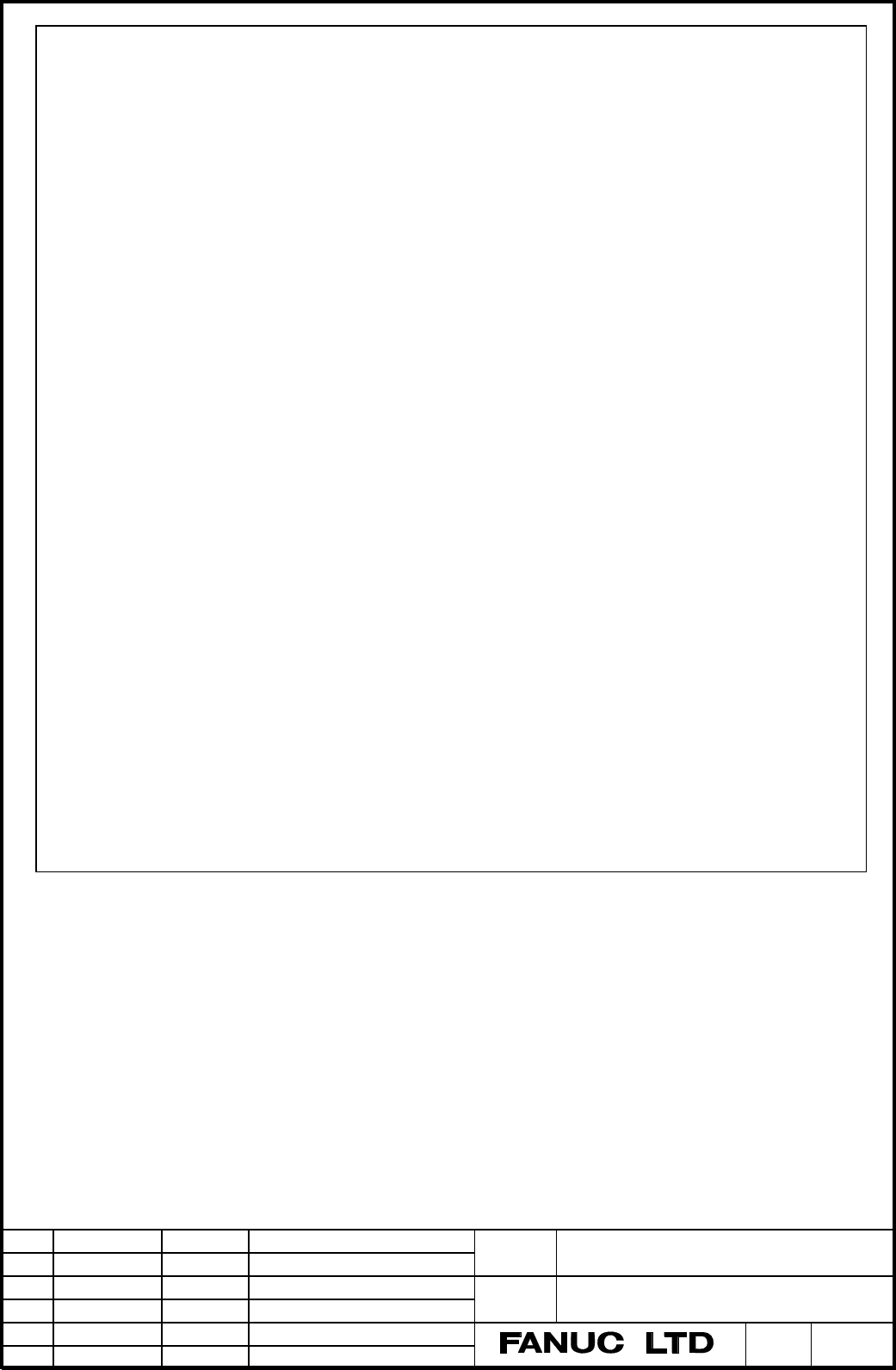 Learning Control Operator's Manual
A - 63639E - 108
01 '05.04.20 N.Sonoda Newly designed
Sheet
04
Edit
Date
Design
Description
/ 064
Note
1) Learning control requires Servo software 90D3 or 90E3 called
Learning series

. This manual
doesn't mention about 90E3 series because it is
developing. 90E3 series corresponding to
90E0 series enables to control 4-axes per one DSP.
Learning control only works during G05 execution, which is High-speed cutting in the part
program. As you can set Learning
control to each axis, you can mix

Learning axes

and Normal
axes.
In the servo axis allocation (No.1023), Learnin
g axis (No.2019#6=1) must be allocated to the
odd axis (L-axis). The subsequent even axis (M-axis) can be used as the normal axis.
Learning control requires specific servo axis card (A20B-3300-0450). Refer to
Appendix 1

.
Notes on the order
. Never use the servo software out of accord with the above table (Table
1-1)
90D3, 90E3 series support all function of norma
l servo software 90D0, 90E0 series. For that
reason, the parameter number for Learning control is different between series 16
30
i
. Refer to Appendix 6. Parameter number difference between series 16

i

and 30i.
The special parameters described in this manual are applied only to Learning axis. The servo
parameters except for Learning parameters ar
e the same as that for general cutting tools.
Concerning the other servo parameters except for Learning parameters described in this
manual and adjustments, refer to "FANUC AC Servo Motor
α
is
/α
i /β

is

series Parameter
Manual" B-65270E.
Refer to the following CNC manual.
i
/300
i
/300
i
s-A

Specification Manual "

: B-63942E
i
/300
i
/300
i
s-A

Connection Manual (function) "

: B-63943E
i
/300
i
/300
i
s-A

User's Manual "

: B-63944E
i
/300
i
/300
i
s-A Maintenance Manual "

: B-63945E
i
/300
i
/300
i
s-A Parameter Manual "

: B-63950E