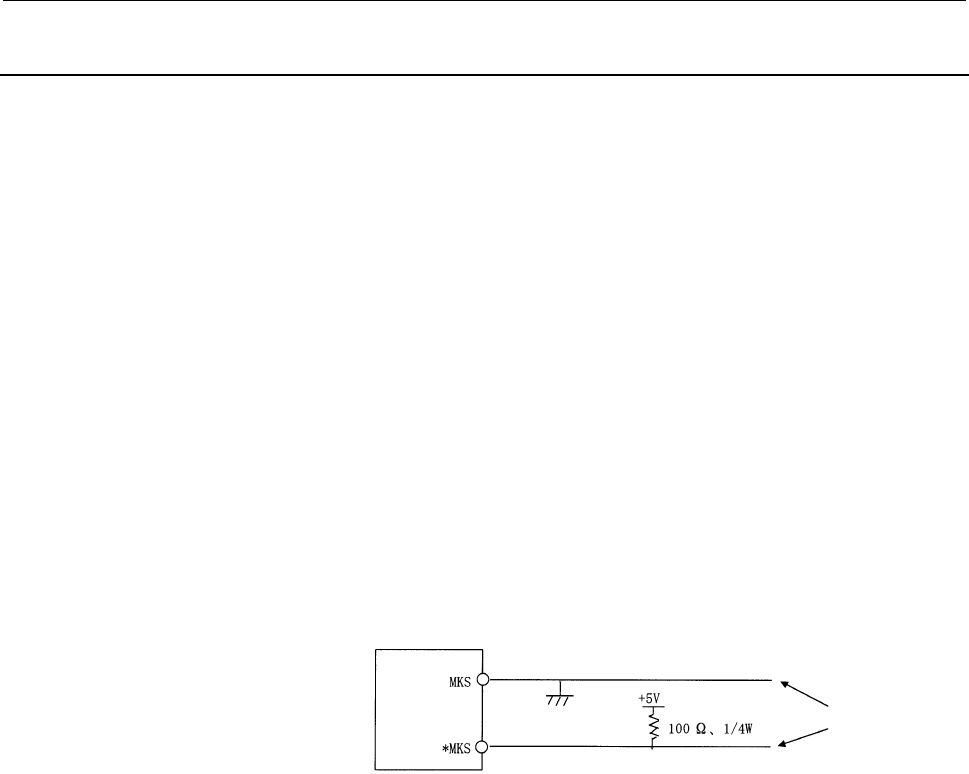 8. HIGH SPEED COUNTER MODULE
CONNECTIONS

B-61813E/03
8.8.5
Miscellaneous information
(1)
+5 V for connector JA9
•
+5 V on connector JA9 of this high-speed counter module is
output from the counter module (with a maximum current of
300 mA).
It is necessary to satisfy Table 4.4 in Section 4.4, "Required
Current."
Example : When 100 mA is drawn from +5 V on connector
JA9, 170 + 0.3
×
100 = 200. So, use 200 instead of 170.
(2)
Rotary encoder output
•
Use a line driver output to drive the rotary encoder. Note that
a voltage output or an open-collector output cannot be used
for the rotary encoder. In addition, use a differential driver
(SN75113 or equivalent) at the line driver output. Note that
the AM26LS31 is equivalent to the SN75113.
(3)
Marker signal treatment
When not using a marker signal (when not presetting), treat it as
shown below. Otherwise, a disconnection alarm will occur. A
disconnection alarm does not suspend counting.
If this treatment does not prevent the disconnection alarm, check
whether the GND point of the pulse generator is connected to the
LGND (0 V) pin of connector JA9 on this high-speed counter
module.
A/B phase pulse (+/- pulse) input signal indicators, A and B,
correspond to pulse inputs A and B. When the pulse input is "1"
(high), the indicator lights. If the pulse input has a very short
period for "1" (high), it may difficult to recognize the indicator as
being on.
Cable
Counter module