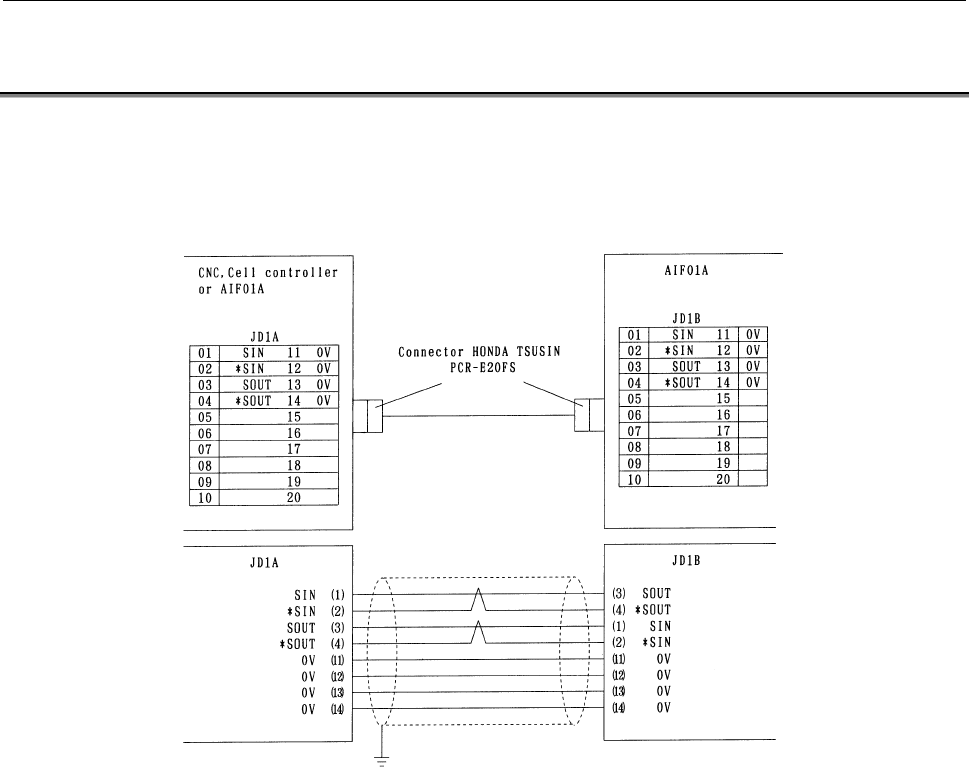 4. CONNECTION
CONNECTIONS

B-61813E/03
4.5
INTERFACE MODULE (AIF01A, AIF01B)
Details of the cables K1X,K2X and the terminator shown in the general
connection diagram are as follows.
a)
Make sure to use twisted pair wires for signal SIN and *SIN,
and signals SOUT and *SOUT.
i)
Reconnecnded cable material: A66L-0001-0284#10P
(twisted pair/shielded)
ii)
Shielding wires should be connected with the
grounding plate of the cabinet at the JD1A side using a
cable clamp. (Refer to the CONNECTING MANUAL
for the CNC and the cell controller.)
iii)
Maximum cable length: 10 m
iv)
Make sure not to connect to the connector spare pins.
v)
In the following cases, make sure to use an optical I/O
link adapter and an optical fiber cable.(See chapter 10)
•
When the cable is more than 10 meters long.
•
When the cable runs between different cabinets
and there is no appropriate ground wire between
the cabinets.
•
When there is concern that the cable is influenced
by strong noise.
vi)
When an optical I/O link adapter is used: Cable to be
used between the interface module (AIF01A) and the
optical I/O link adapter is dissimilar to this cable. (See
chapter 10.)