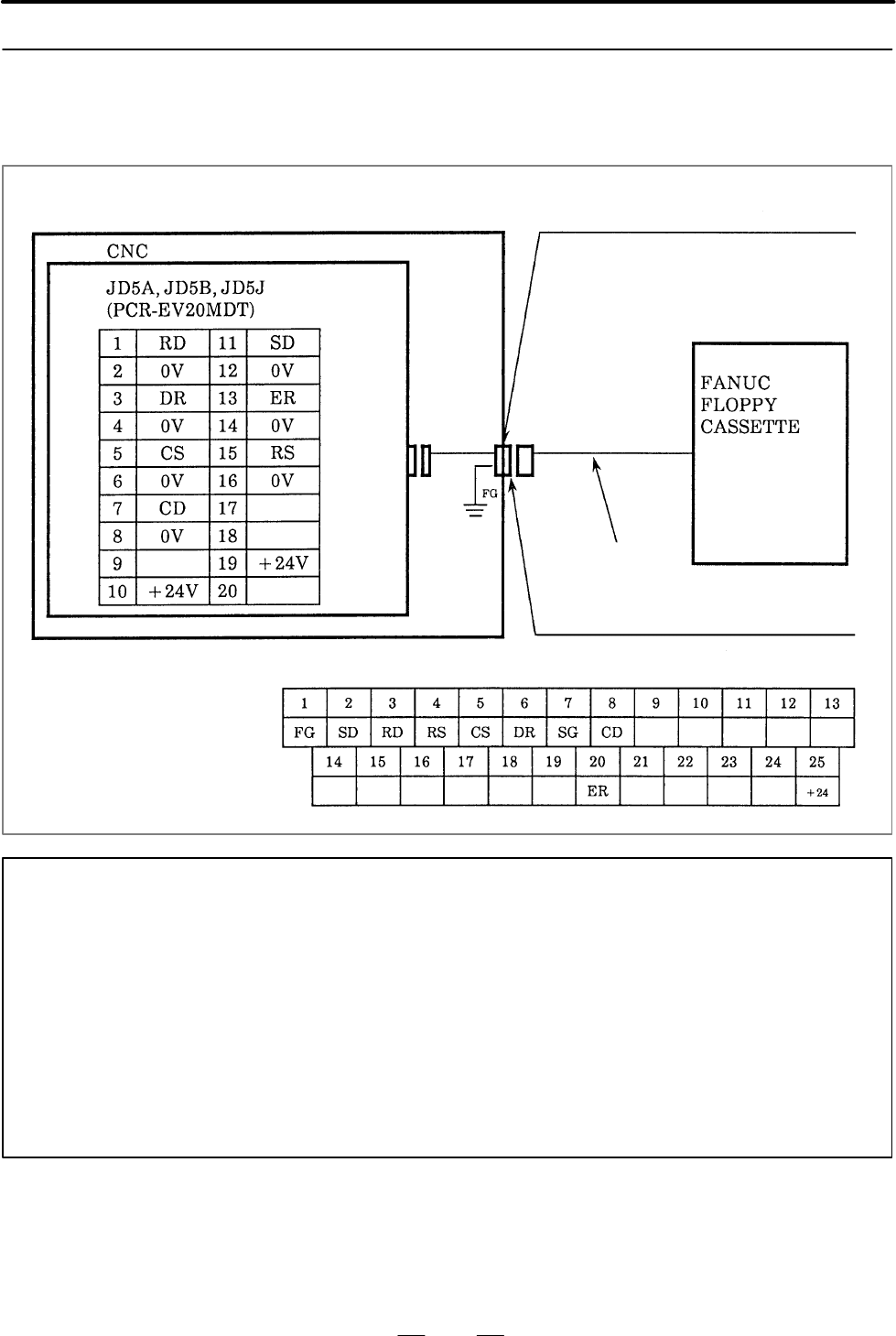 B–62073E/04
7. CONNECTION TO CNC PERIPHERALS
232
Cable side connector
Connector: DBM–25P (Japan Aviation
Electronic Inc., Ltd.)
Lock metal: DB–C2–J9 (Japan Aviation
Electronic Inc., Ltd.)
RELAYING CONNECTOR
SIGNAL LAYOUT
Relaying
cable
Relaying connector
Connector: DBM–25S (Japan Aviation
Electronic Inc., Ltd.)
Lock metal: D20418–J2 (Japan Aviation
Electronic Inc., Ltd.)
Accessory for cassette
NOTE
1
Machine tool builder shall furnish relay connector and relay cable.
2
Use a totally shielded cable for the signal cable.
Recommended cable specification: A66L–0001–0041
3
Open all terminals other than illustrated.
4
Set a parameter to be able to use reader puncher interface when connecting FANUC cassette.
The standard baud rate is 4800 baud.
5
Do not use a FANUC Cassette Adapter (an external disk drive) and FANUC Handy File (an I/O
unit) at the same time. If they are connected to separate connectors, two of connectors JD5A,
JD5B, and JD5J, the power capacity may exceed that of +24 V. (When the power capacity
exceeds that of +24 V, the operation may become abnormal or the fuse for +24 V may blow.)
7.2.4
FANUC Cassette
Connection