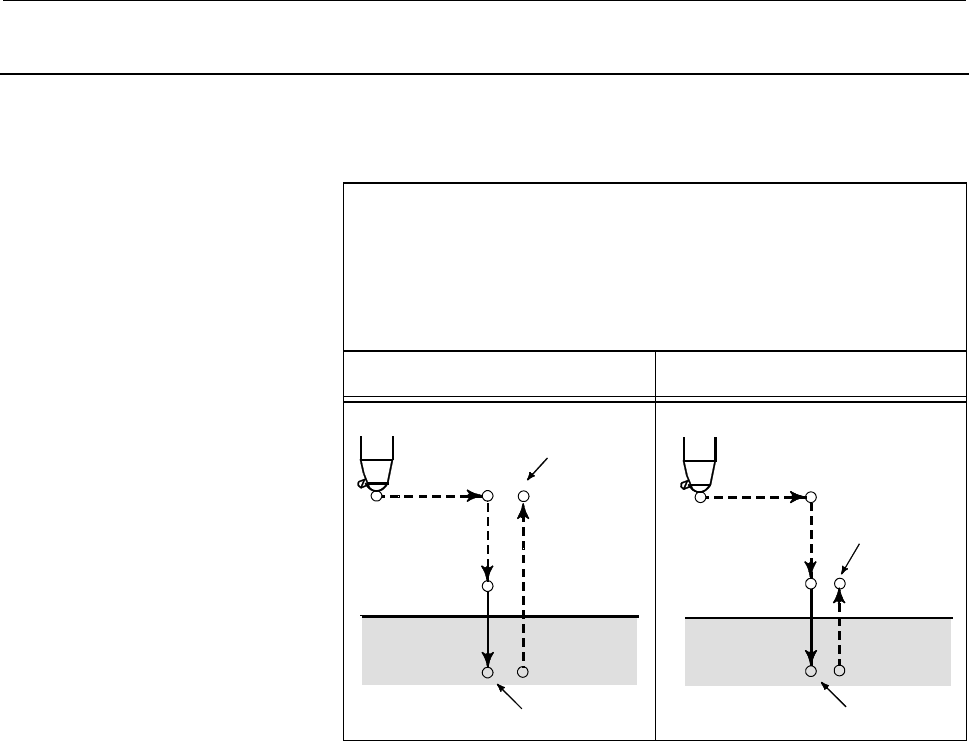 13
.FUNCTIONS TO SIMPLIFY PROGRAMMING PROGRAMMING

B-63324EN/03
- 306 -
13.1.9
Boring Cycle (G86)
This cycle is used to bore a hole.
Format
G86 X_ Y_ Z_ R_ F_ L_ ;
X_ Y_
: Hole position data
Z_
: The distance from point R to the bottom of the hole
R_
: The distance from the initial level to point R level
L_
: Number of repeats (if required)
Initial level
Point R
Spindle stop
Spindle CW
Point Z
Spindle CW
Point R level
Point R
Point Z
Spindle stop
Explanation
- Operation
After positioning along the X- and Y-axes, rapid traverse is performed
to point R.
Drilling is performed from point R to point Z.
When the spindle is stopped at the bottom of the hole, the tool is
retracted in rapid traverse.
- Spindle rotation
Before G86 is specified, turn the spindle in the reverse direction with a
miscellaneous function (M code).
When successive hole machining operations which involve a short
distance from a hole position and the initial level to the R point level,
the spindle may not reach the normal speed before starting a hole
cutting operation. In such a case, L for the number of repeats must not
be specified. Instead, a dwell time based on G04 must be inserted
before each hole machining operation. However, some machines do
not require this specification. For details, refer to the manual provided
by the machine tool builder.