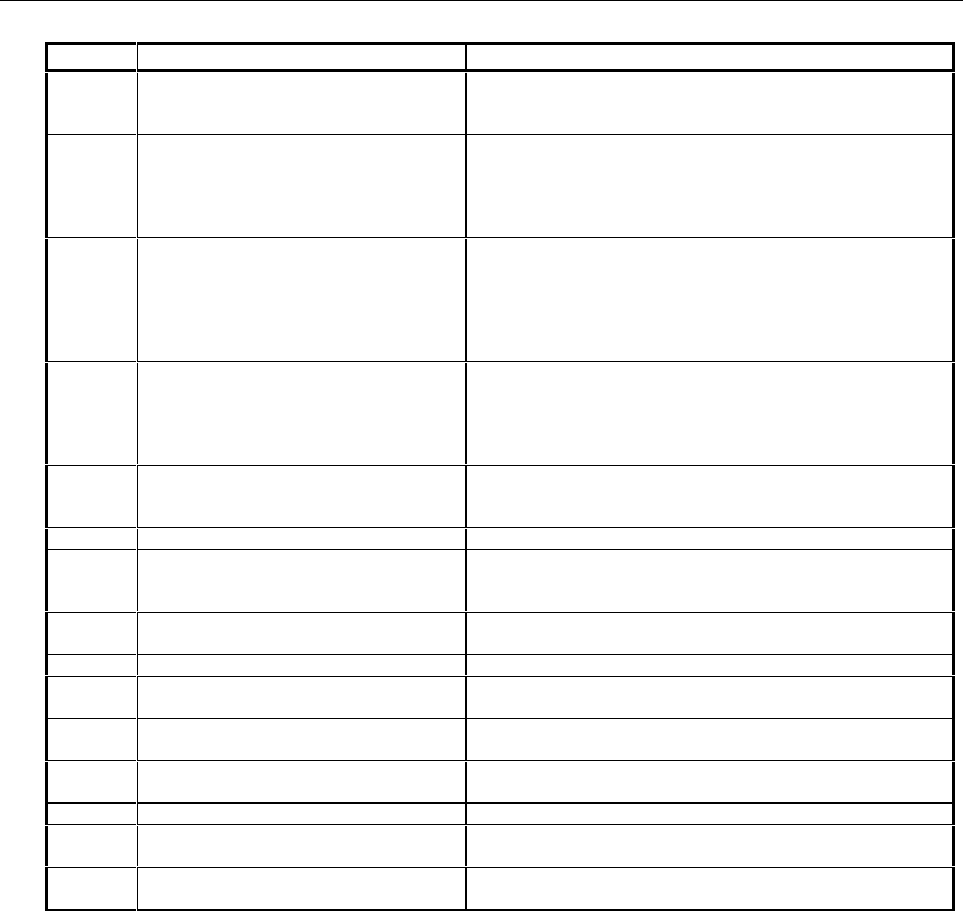 F.ALARM LIST
APPENDIX

B-63324EN/03
- 798 -
PS0995
ILLEGAL PARAMETER IN
G41.2/G42.2
The parameter settings (parameter Nos. 6080 to 6089) for
determining the relationship between the axis of rotation
and the rotation plane are incorrect.
PS0996
G41.3/G40 FORMAT ERROR
(1) A move instruction was specified in a block in which the
G41.3 or G40 code is specified.
(2) A G or M code which suppresses buffering was
specified in the block in which the G41.3 code was
specified.
PS0997
ILLEGAL COMMAND IN G41.3
(1) A G code other than G00 or G01 in group 01 was
specified in the G41.3 mode.
(2) An offset (G code in group 07) was specified in the
G41.3 mode.
(3) The block following the block in which G41.3 (startup)
was specified did not contain a move command.
PS0998
G41.3 ILLEGAL START_UP
(1) The G41.3 G code (startup) was specified in a group 01
mode for other than G00 and G01.
(2) The angle formed by the tool direction vector and the
movement direction vector was 0
°

or 180

°

degrees at
startup.
PS0999
ILLEGAL PARAMETER IN G41.3
The parameter settings (parameter Nos. 6080 to 6089) for
determining the relationship between the axis of rotation
and the rotation plane are incorrect.
PS1001
ILLEGAL ORDER (NURBS)
The specified number of levels is incorrect.
PS1002
NO KNOT COMMAND (NURBS)
Knot has not been specified, or a block not related to
NURBS interpolation was specified in the NURBS
interpolation mode.
PS1003
ILLEGAL AXIS COMMAND (NURBS)
An axis not specified as a control point was specified in the
1st block.
PS1004
ILLEGAL KNOT
There is an insufficient number of knot individual blocks.
PS1005
ILLEGAL CANCEL (NURBS)
The NURBS interpolation mode was turned OFF even
though NURBS interpolation was not completed.
PS1006
ILLEGAL MODE (NURBS)
A mode that cannot be paired with the NURBS interpolation
mode was specified.
PS1007
ILLEGAL MULTI-KNOT
Nested knots for each level can be specified for the start
and end points.
PS1008
ILLEGAL KNOT VALUE (NURBS)
Knot is not increased monotonously.
PS1009
ILLEGAL 1ST CONTROL POINT
(NURBS)
The 1st control point is erroneous, or there is no continuity
with the previous block.
PS1010
ILLEGAL RESTART (NURBS)
An attempt was made to resume NURBS interpolation after
manual intervention with manual absolute ON.