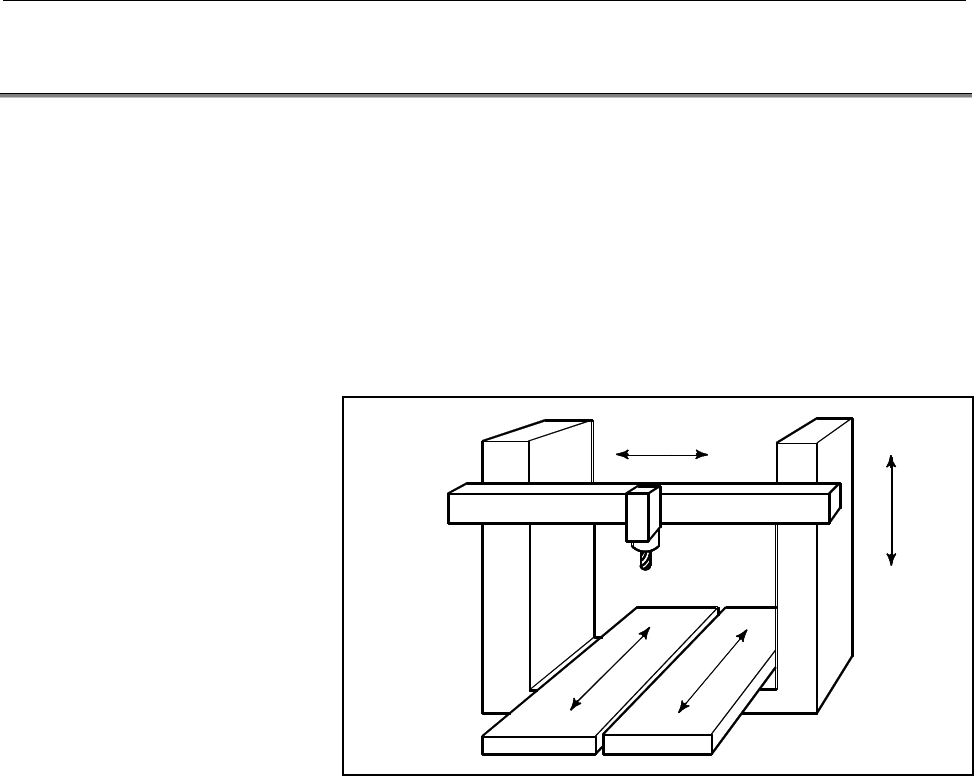 19
.
AXIS CONTROL FUNCTIONS PROGRAMMING

B-63324EN/03
- 698 -
Two specified axes can be switched to synchronous, independent, or
normal operation, using the appropriate switches on the machine
operator's panel.
The following operating modes are applicable to machines having two
tables driven independently by separate control axes. The following
example is of a machine with two tables driven independently by the Y
axis and V axis. If the axis names and axis sets that are actually being
used differ from those in the example, substitute the actual names for
those below.
Fig.19.2 Example of axis configuration of the machine operated by Twin
table control
Explanation
- Synchronous operation
This mode is used for, for example, machining large workpieces that
extend over two tables.
While operating one axis with a move command, it is possible to
synchronously move the other axis. In the synchronous mode, the axis
to which the move command applies is called the master axis, and the
axis that moves synchronously with the master axis is called the slave
axis. In this example, it is assumed that Y axis is the master axis and V
axis is the slave axis. Here, the Y axis and the V axis move
synchronously in accordance with program command Y
yyyy issued to
the Y axis (master axis).
In this synchronous operation, the move command specified for the
master axis is simultaneously provided for the servo motors of the
master and slave axes. The system does not carry out continuous
detection of the difference between the two servo motors or compensate
for the difference by adjusting the servo motor of the slave axis. It does
not detect the synchronization error alarm.
V
X
Y
Z