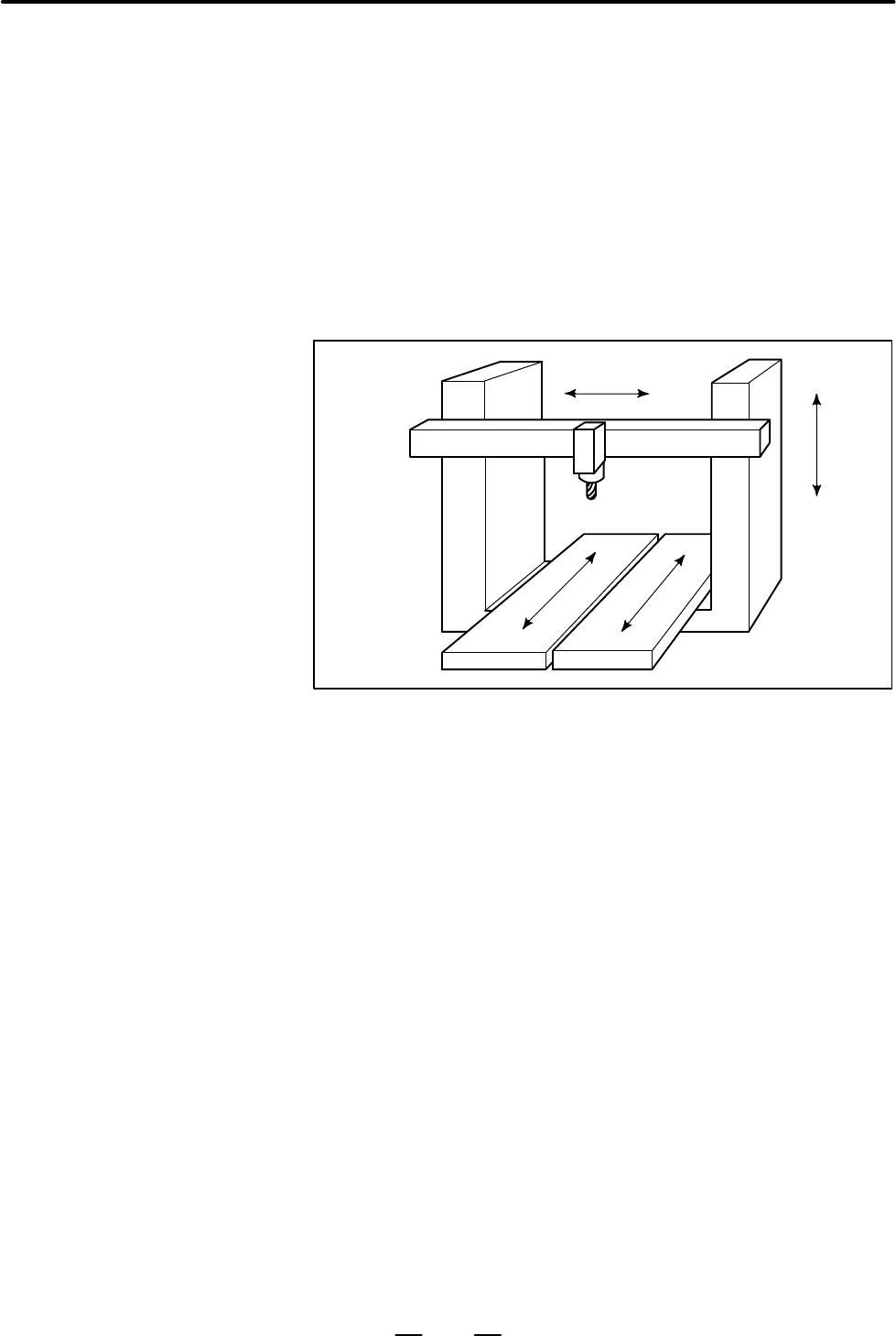 PROGRAMMING
19. AXIS CONTROL FUNCTIONS
317
It is possible to change the operating mode for two or more specified axes
to either synchronous operation or normal operation by an input signal
from the machine.
The following operating modes are applicable to machines having two
tables driven independently by separate control axes.
Synchronous control can be performed for up to four pairs of axes with
the Series 16
i

/160

i
, or up to three pairs with the Series 18i

/180

i

, according
to the parameter setting (parameter No. 8311).
The following example is of a machine with two tables driven
independently by the Y axis and V axis. If the axis names and axis sets
that are actually being used differ from those in the example, substitute
the actual names for those below.
V
X
Y
Z
Fig. 19.1 (a)
Example of axis configuration of the machine operated
by simple synchronous control
This mode is used for machining large workpieces that extend over two
tables.
While operating one axis with a move command, it is possible to
synchronously move the other axis. In the synchronous mode, the axis
to which the move command applies is called the master axis, and the axis
that moves synchronously with the master axis is called the slave axis.
In this example, it is assumed that Y axis is the master axis and V axis is
the slave axis. Here, the Y axis and the V axis move synchronously in
accordance with program command Yyyyy issued to the Y axis (master
axis).
Synchronous operation is possible during automatic operation, jog feed,
manual handle feed using the manual pulse generator, and incremental
feed, but is not possible during manual reference position return.
19.1
SIMPLE
SYNCHRONOUS
CONTROL
Explanations