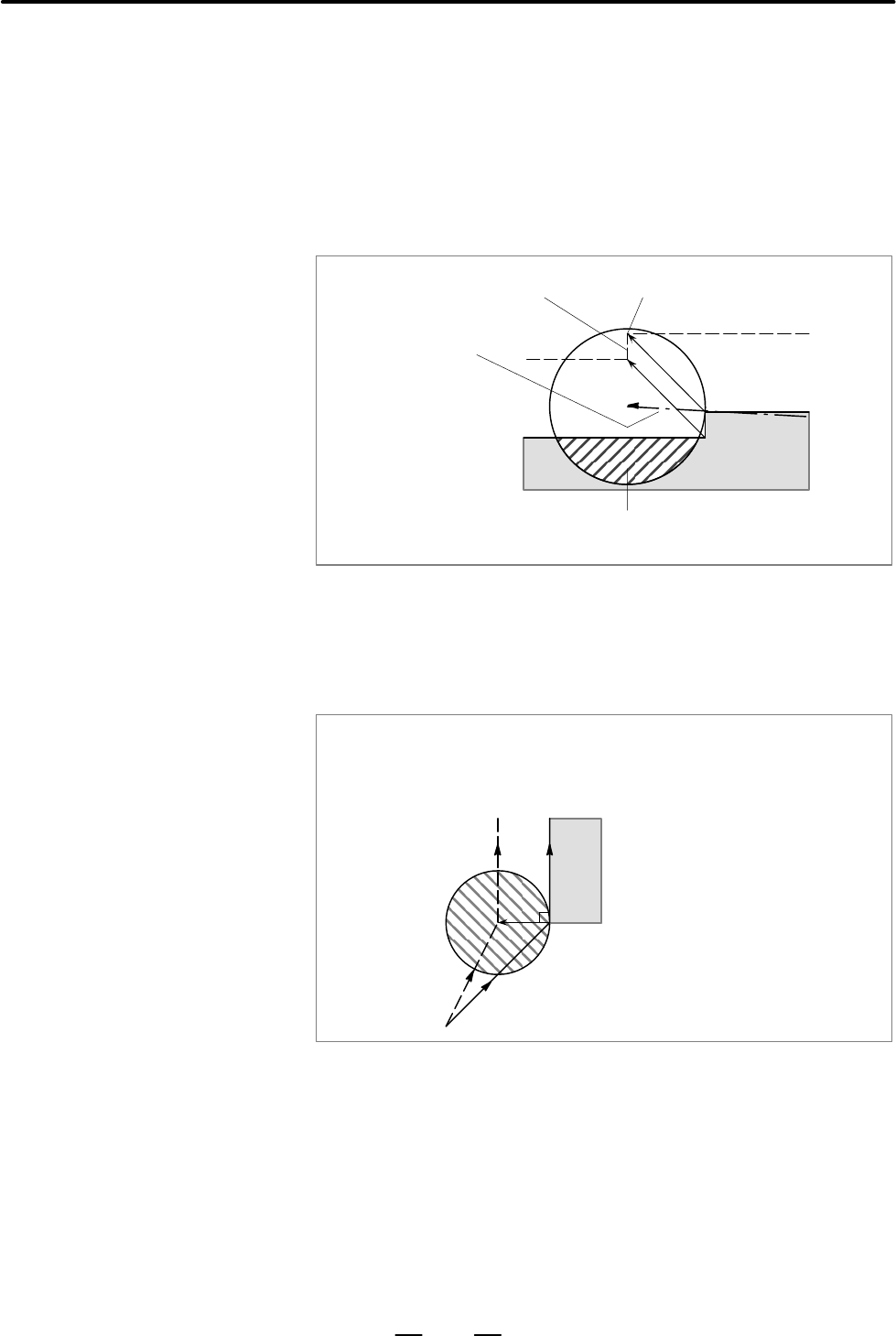 PROGRAMMING
B–63664EN/02
12. COMPENSATION FUNCTION
185
When machining of the step is commanded by circular machining in the
case of a program containing a step smaller than the beam radius, the path
of the center of beam with the ordinary offset becomes reverse to the
programmed direction. In this case, the first vector is ignored, and the
beam moves linearly to the second vector position. The single block
operation is stopped at this point. If the machining is not in the single
block mode, the cycle operation is continued. If the step is of linear, no
alarm will be generated and cut correctly. However uncut part will
remain.
S
The first vector is ignored
Beam center path
Programmed path
Workpiece
Center of the circu-
lar machining
An overcutting will result if the first vector is not ignored.
However, beam moves linearly.
Linear movement
Stop position after execution of a single
block
It is usually used such a method that the beam is moved along the Z axis
after the cutter compensation is effected at some distance from the
workpiece at the start of the machining.
In the case above, if it is desired to divide the motion along the Z axis into
rapid traverse and cutting feed, follow the procedure below.
Work-
piece
N1
N1 G91 G00 G41 X500.0 Y500.0 D1 ;
N3 G01 Z–300.0 F100 ;
N6 Y1000.0 F200 ;
N6
(500, 500)
N3:Move command in Z axis
After compensation
In the program example above, when executing block N1, blocks N3 and
N6 are also entered into the buffer storage, and by the relationship among
them the correct compensation is performed as in the figure above.
Then, if the block N3 (move command in Z axis) is divided as follows:
As there are two move command blocks not included in the selected plane
and the block N6 cannot be entered into the buffer storage, the beam center
path is calculated by the information of N1 in the figure above. That is,
the offset vector is not calculated in start–up and the overcutting may
result.
D
Machining a step smaller
than the tool radius
and cutting along the
Z–axis