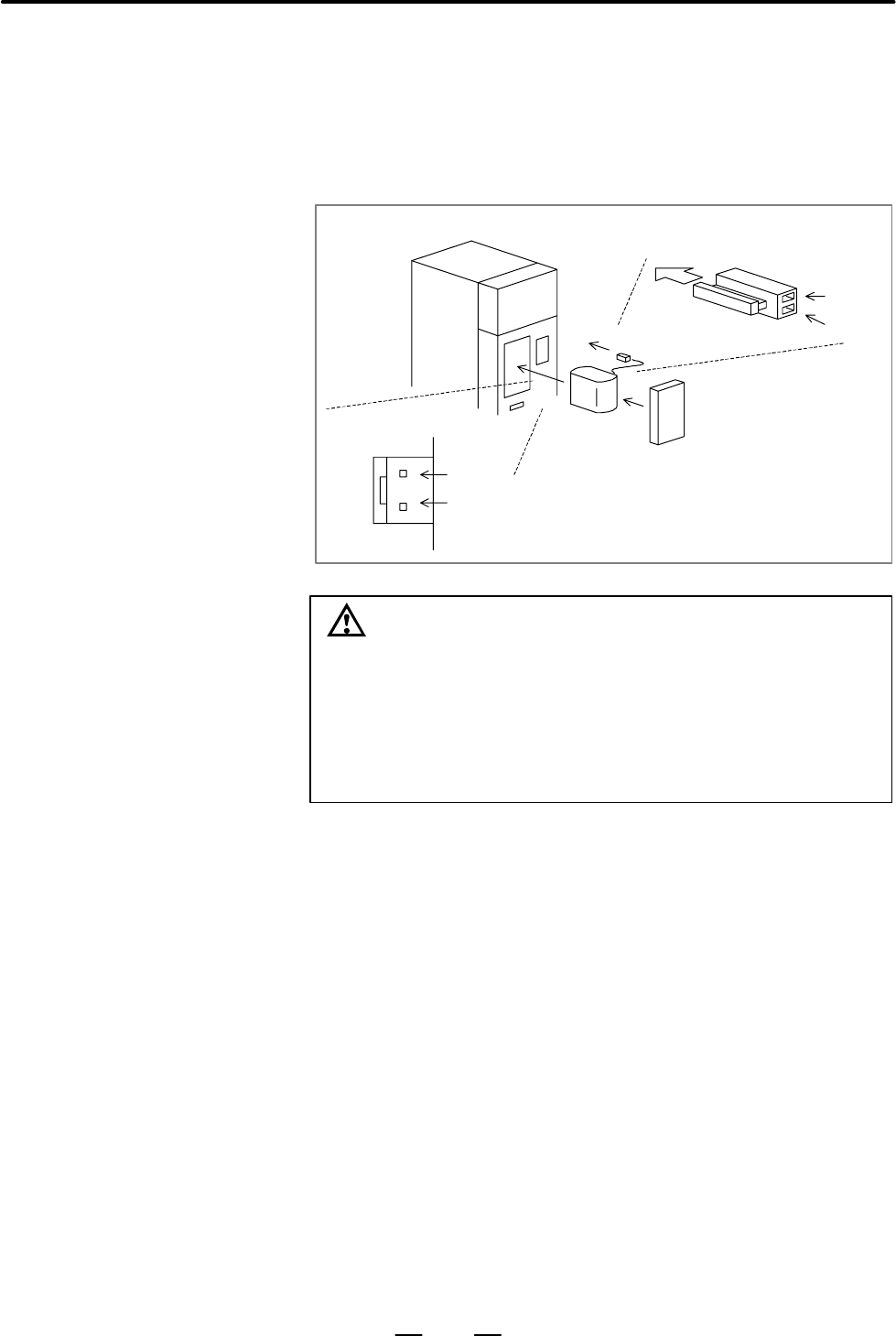 MAINTENANCE
1. METHOD OF REPLACING BATTERY
B–63664EN/02
814
[Installation procedure for the battery]
(1)Remove the battery cover from the SVM.
(2)Install the battery in the SVM as shown in the figure below.
(3)Install the battery cover.
(4)Attach the battery connector to CX5X of the SVM.
Battery
SVM
Battery cover
Inserting direction
Red: +6V
Black: 0V
CX5X
+6 V
0 V
Connector
Cable side
CAUTION
1
When the battery is installed in the SVM from the side from
which the cable is drawn, the cable may be stretched tight,
which can lead to a poor contact condition. Therefore, install
the battery so that the cable is not extended tightly.
2
Be careful when handling the connector. See [Caution No.2
for battery replacement] at the end of this section for details.
The pulse coder for the
a
series servo motor is not incorporated with a
backup capacitor as standard. To keep the absolute position information
in the absolute pulse coder, you need to keep the control power turned on
during battery replacement. Follow the procedure explained below.
[Replacing procedure for the battery]
1.
Make sure that the power to the SVM is on (the 7–segment LED on
the front of the SVM is on).
2.
Make sure that the emergency stop button of the system has been
pressed.
3.
Make sure that the motor is not activated.
4.
Make sure that the DC link charge LED of the SVM is off.
5.
Remove the old battery, and install a new battery.
6.
This completes the replacement. You can turn off the power to the
system.
[Caution No.1 for battery
replacement]